A few days ago, Tata's new entry level car, Tata Nano Pelican was spotted testing in Pune city, and considered to be the most updated Nano variant till then. Though the company has not revealed any official detail about it yet, another Nano variant, considered to be a fully electric Nano spied testing in Maharashtra.
After first showcased at the Geneva Motor Show in 2010, it seems that Tata motors has speed-up its efforts towards the electric variant of Nano. As the automotive market is getting bigger day-by-day, the air pollution becomes the worst situation across the world due to the emission of gasses. Even a few large cities have been taken a step against it by banning the old diesel cars, and few more are in the queue.
At the time when everyone is looking for pollution free vehicle, Tata's new electric powered Nano would appreciate globally by the customers. This model would also get the benefit of the subsidies from the Indian government's National Electric Mobility Mission Plan 2020 (NEMMP 2020).
Though the present scenario of the country is not ready to take-in such vehicles in a vast number, but we can expect some charging stations by the time Nano electric variant will hit the Indian roads. We can also expect an alternate fuel option by the brand.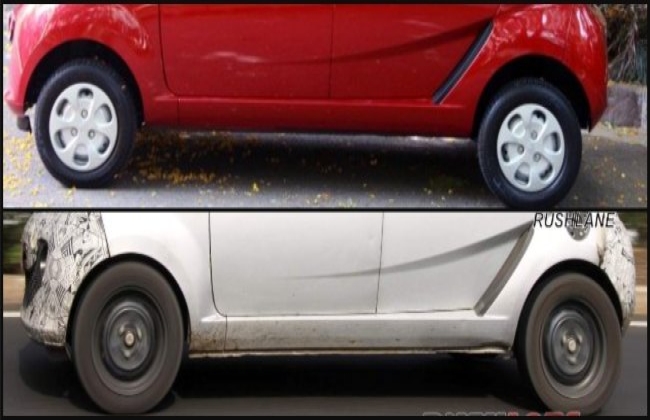 Having a look at the spied images, the new variant of Nano seems to have a power socket which is located on the rear left fender of the test mule. Another notable update is, the gap between the wheel arch and the tyres, the new electric Nano has a lesser gap as compared to the old Nano. This shows the extra load of the heavy battery pack.
No technical details have been revealed yet by the company, but the report suggests that the electric Nano would retain its rear wheel drive arrangement from the current generation. The batteries are likely to be moved to the floor and help to improve its weight distribution and center of gravity.
About the launch date of this pure electric car by Tata, there is no official yet. But it might take a couple of years to come in the production.
Get latest and updated information about automobiles on our Google Plus Community Speed Gears.
Images Source: Rushlane