In 2013, Ather Energy- an Indian electric scooter was manufactured which was founded by Swapnil Jain and Tarun Mehta. Currently, two electric scooters are offered by them namely- ATher 450 and 340. Now, three new subscription plan has been announced by them, to help the owners to maintain their scooters properly without any struggle.
Till 31st December 2018, for all Ather customers, the public charging facility through AtherGrid will be free and based on the usage, three new plans are planned to match the certain needs of customers. For the year, the base plan of Ather Connect is Rs 3,000 + GST which includes Over-the-air updates to improve the ride experience, remote diagnostics for quicker service, ride recommendations and onboard navigation.
Ather Service is the second plan which costs Rs 6,000 + GST per year. As the name suggests, this is more a service focused plan which includes Vehicle service and Roadside Assistance + Ather Connect. Ather Charge, is a charging focused plan, which also costs Rs 6,000 + GST per year and includes Home Charging + Unlimited public charging at AtherGrid Points + Ather Connect.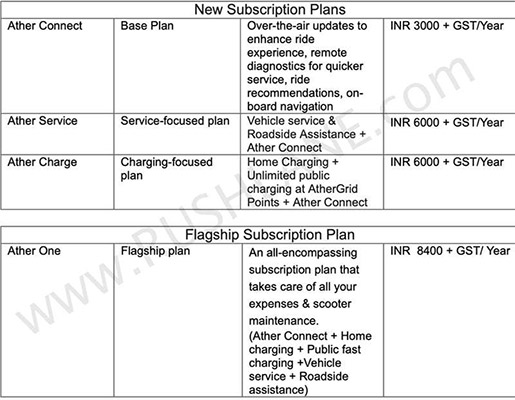 Moreover, Ather Energy is also offering its flagship plan which customers can use at the cost of Rs 8,400 + GST per year. This plan is all in one plan as it includes all the three plans among which are Ather Connect + Home charging + Public fast charging +Vehicle service + Roadside assistance. If you buy a new Ather electric scooter then from the date of delivery you will get one year free service and after finishing of one year, the customer can choose any plan of their choice.
Earlier in 2018, Ather 450 and 340 electric scooters were launched. The Ather 340 costs Rs 1,09,750 and the Ather 450 costs Rs 1,24,750. The scooters come with a charging cable, standard installation and 1 year subscription plan free of cost. Both the scooters have same style, dimensions and features but the Ather 450 gives more capacity output in comparison to the Ather 340. Ather 340 is powered by a 4.4kW motor which offers 20Nm torque. It's top speed is 70kmph and has acceleration from 0 to 40 kmph which is achieved in 5.1 seconds.
Ather 450 is powered by a 5.4kW motor which offers 20.5 Nm torque. It's top speed is 80kmph and has acceleration from 0 to 40 kmph which is achieved in 3.9 seconds. There are two drive modes in both the scooters- power and economy. Ather 340 delivers 50km range in power mode and 60 km range in economy. On the other hand, Ather 450 delivers 60km range in power mode and 75km range in economy.