Audi is a popular name in luxury cars which makes your drive luxurious and carefree. German Auto Major has been introduced many luxury cars in range of sedan, sports car, SUV etc. Now company has brought its new TT Offroad concept car. Audi TT was first introduced in 1998 and later it has been introduced with its many updated models. But now the company left its all models behind and coming with a new concept car and brought Offroad compact SUV which is being updated on its TT sports car.
This new concept has been showed off on the floor of Beijing Auto Show 2014. It is equipped with virtual cockpit and made it a complete pack of SUV and sports car. The concept takes power from 2.0-liter four-cylinder TFSI petrol engine which is turbocharged with two electric motors, mated with 6-speed e-Stronic dual clutch gearbox. A clutch is integrated with another motor which will make 40 kW power and 220 Nm torque. It will use hybrid drive system which generates 408 BHP combined maximum power and 650 Nm of torque. The car will reach 62 MPH in 7.2 seconds which shows that the concept car is perfect for speedy one.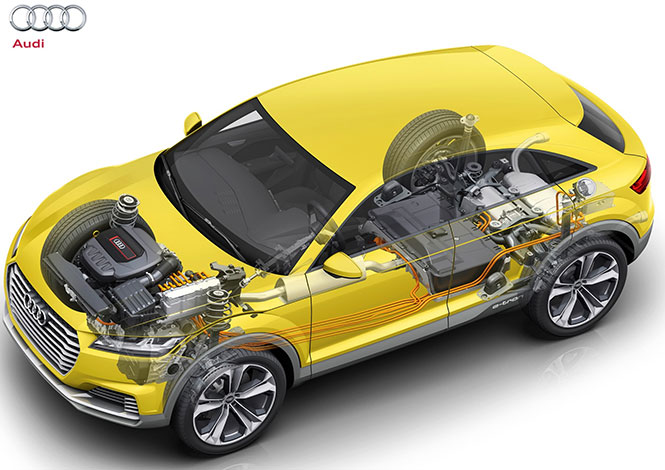 This is a partial 4 Wheel Drive as it runs with front wheels and when it needs to use extra power over the climb then it will run on rear wheels. Its one motor is mounted on front axle and anoother is integrated on rear axle, which are independent from each other. The front electric motor makes 292 BHP maximum power and 380 Nm torque. The rear electric motor will develop 116 BHP and 270Nm torque. Liquid-cooled lithium-ion battery with 8 modules is used to power the car which is mounted on the front of the rear and can store upto 12 kWh of energy. It can reach 50 KM when it is in electric mode which will remain active upto 130 KM using rear electric motor independently.
The car also features wireless charging capabilities, which will work when the car will run on a plate which is safe for us and our pets.