In an attempt to push sales this monsoon, Bajaj Auto brings a special Hat-Trick offer on the purchase of new motorcycles. In this offer, the buyers will be benefited with the facilities like vehicle's insurance, free service and warranty. Valid for a limited time period, the offer will endow one-year free insurance, two years free service and five years warranty for new customers.
Know more about the offer.
Applicable from 1st July till 31st July 2018, the offer comforts buyers from 1 Year free insurance on the purchase of Pulsar 150 and Pulsar 160 only in the state of Kerala. Besides, you will get benefited with other offers on all Bajaj motorcycles.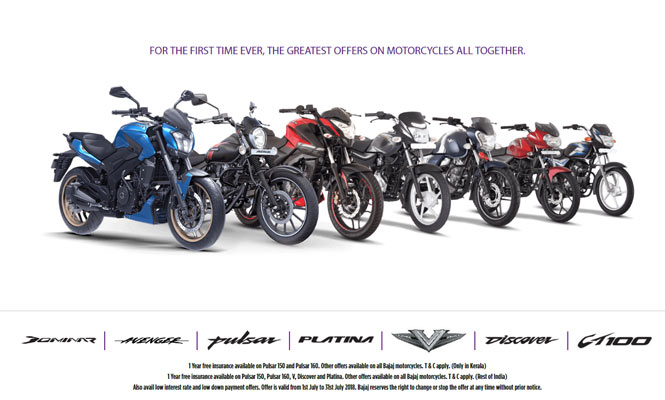 Leaving Kerala, buyers will get the facility of 1-year free insurance on the purchase of models like the Pulsar 150, Pulsar 160, V, Discover and Platina. Other offers like free service and five years warranty are applicable to other products. T & C apply.
Furthermore, the customers will get low down payment and low-interest rate option on vehicles' finance. The right to stop and continue the offer further is reserved for Bajaj which means bikemaker can make changes as per its suite.