In order to control the rise in pollution level in the country, the government is exploring various steps like stopping new registration on diesel cars that carry over 2000 cc displacement engine. It has also come to notice that Kerala has put the ban on both light and heavy vehicles that are older than 10 years. Besides, the central government has also targeted the auto-rickshaws, cars and buses for CNG conversion. Like all these methods, now the government has launched a pilot project program that will let people aware about CNG as fuel for two wheelers.

It was implemented yesterday by Environment Minister Prakash Javadekar and Oil Minister Dharmendra Pradhan in the capital. The program also referred as "Hawa Badlo", is being executed by GAIL (India) Limited and one of its subsidiaries Indraprastha Gas Limited (IGL).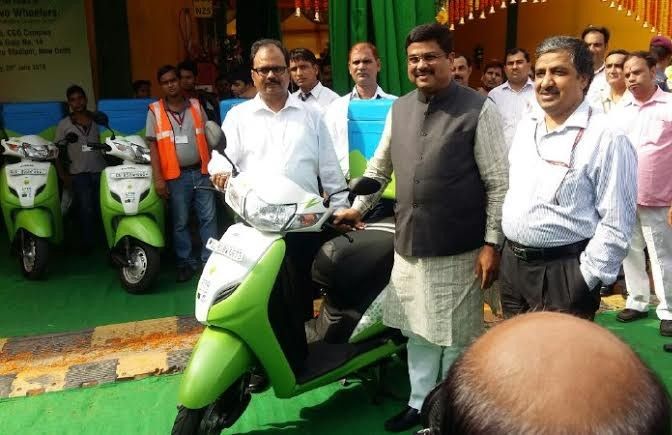 By the time of Launching this program, Mr. Dharmendra Pradhan said, "The government is promoting the use of gas in the country to fulfill COP-21 commitments to curb pollution. The gas share in the country's fuel basket is only seven per cent compared to the world average of around 24 percent. The pilot will be expanded after evaluating its experience."

In order to give a green light to the plan, the first batch of 10 CNG retrofitted two wheelers units have already been dispatched on Thursday. Following the details, the motorcycles here in question will carry a kit that consists of two CNG cylinders. Each of the cylinders has the capacity to carry up to 1 kg of CNG. This is enough amount of CNG that can pull the two-wheeler up to 120 km.

As the Ministry claimed, the CNG retrofitted two wheelers turns out to be more eco-friendly in comparison to the Petrol powered vehicles.

Further adding, ""Government is not giving subsidy for CNG-run two wheelers. These two-wheelers would be 40 per cent more economical than the petrol ones. Thus, the consumers will save on fuel cost."

Get latest and updated information about automobiles and latest technologies on our Google Plus Sagmart.Com.