Royal Enfield, which is one of the leading two-wheeler manufacturers in the Indian biking industry, observed an increase in new on-road prices across the range, post GST. As the manufacturer sells bikes both above and below 350cc, under the new GST norms, the 350cc range of motorcycles received a marginal hike in prices. While, the RE products above 350cc get costlier by upto Rs. 4,399
| Model Name | Pre-GST ex-Pune Price | Post-GST ex-Pune Price | Difference | New RTO Charges | Difference in RTO charges (Rs) | New insurance charges (0 dep) | Insurance difference (Rs) | New on-road price, Pune (Rs) | On-road price difference (Rs)(Rs) |
| --- | --- | --- | --- | --- | --- | --- | --- | --- | --- |
| Bullet 350 UCE | 1,13,511 | 1,13,436 | 75 less | 11,970 | 8 less | 4,850 | 121 more | 1,30,257 | 38 more |
| Bullet Electra | 1,27,521 | 1,27,439 | 82 less | 13,399 | 8 less | 5,312 | 131 more | 1,46,150 | 41 more |
| Thunderbird 350 | 1,46,403 | 1,46,312 | 91 less | 15,324 | 9 less | 5,935 | 149 more | 1,67,570 | 48 more |
| Classic 350 | 1,35,898 | 1,35,813 | 85 less | 14,253 | 9 less | 5,588 | 140 more | 1,55,654 | 46 more |
With the GST implementation, the implied tax rates on motorcycles and scooters has been reduced from 30.2 percent to 28 percent. While, the two-wheelers above 350cc will attract an additional cess of 3 percent, since these category of vehicles are meant to luxury segment vehicles like yachts and private jets. And the levy tax rate will be 31 percent.
Read also: Honda Two-Wheelers Rolled Out New Post GST Prices in India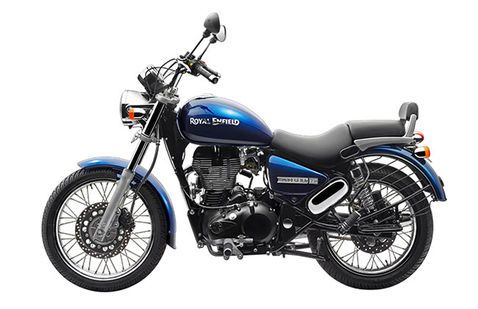 If talked about the ex-showroom prices of the RE products below 350cc, they witness a marginal drop, but the insurance and RTO charges which cumulatively make the on-road price of any vehicle has increased. So, the gained benefit owing to 28 percent base rate wouldn't be that much.
Similar: Yamaha India Releases Post GST Prices; Showcases Marginal Drop
The on-road Pune prices of Royal Enfield models' above 350cc are listed below:
| Model Name | Pre-GST ex-Pune Price | Post-GST ex-Pune Price | Difference | New RTO Charges | Difference in RTO charges (Rs) | New insurance charges (0 dep) | Insurance difference (Rs) | New on-road price, Pune (Rs) | On-road price difference (Rs)(Rs) |
| --- | --- | --- | --- | --- | --- | --- | --- | --- | --- |
| Himalayan | 1,61,958 | 1,65,777 | 3,819 hike | 17,309 | 389 more | 6,892 | 190 more | 1,89,978 | 4,399 more |
| Classic 500 | 1,73,333 | 1,76,132 | 2,799 hike | 18,365 | 285 more | 7,244 | 166 more | 2,01,742 | 3,251 more |
| Desert Storm | 1,76,132 | 1,79,085 | 2,953 hike | 18,667 | 302 more | 7,344 | 174 more | 2,05,096 | 3,429 more |
| Classic 500 Chrome | 1,83,994 | 1,86,870 | 2,876 hike | 19,461 | 294 more | 7,609 | 180 more | 2,13,940 | 3,350 more |
| Thunderbird 500 | 1,85,630 | 1,88,412 | 2,782 hike | 19,618 | 284 more | 7,661 | 177 more | 2,15,691 | 3,242 more |
| Bullet 500 | 1,63,827 | 1,66,256 | 2,429 hike | 17,358 | 248 more | 6,909 | 147 more | 1,90,523 | 2,824 more |