The long-term third-party insurance was not compulsory earlier. Following a Supreme Court order, it has been mandated by Insurance Regulatory and Development Authority of India (IRDAI) from September 2018. From now, two-wheelers have to be insured with third party insurance cover for five long years.
Thanks to it, the two-wheelers have witnessed the price hike for added insurance cost. Though, it varies depending upon the engine capacity. The bikes below 75cc displacement will be insured from five year-third party insurance costs INR 1,045. While the insurance cost for bikes falling 75-150cc (INR 3,285), 150-350 cc (INR 5,453) and above 350cc (INR 13,034).
The third-party was already mandated in the Motor Vehicles Act (MVA). The insurance coverage should provide security for events like theft, damage, and more etc for the time period of five years if you two-wheelers are concerned. Also, it implies on general insurance companies for issuing a five-year third party (TP) insurance cover strictly for new two-wheelers as a separate rider or as a part of comprehensive insurance policy.
Earlier, the policies which were provided were Motor Third-Party policy and Motor Package Insurance policy for 2-wheelers and private cars. Here is how this five-year third party insurance cover affected the pricing of Honda two-wheeler range is listed below: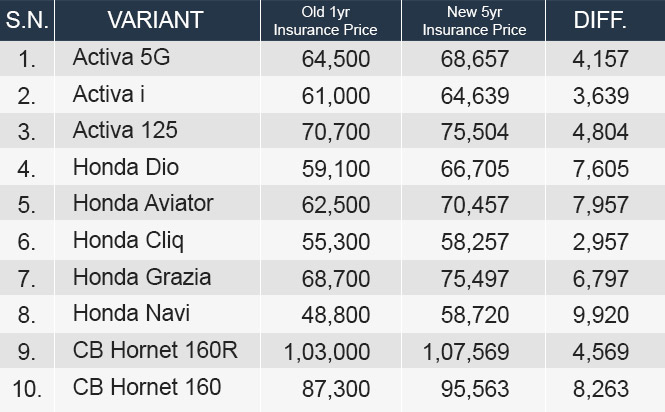 The vehicles have witnessed a noticeable hike in on-road pricing. Honda Activa 5G (STD) which were on sale at INR 64,500 before the following implementation now attracts the price tag of INR 68,600, on-road.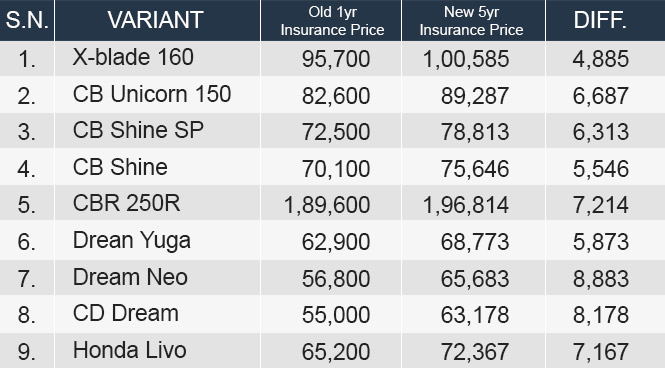 Honda CBR 250R (ABS) is priced at INR 2.30 lakhs post-hike of INR 8k thanks to the long-term five-year insurance policy.