Autonomous cars or say Driverless cars have always amazed people. Major Big Automobile corporates are investing huge bucks on this project to become successful but it's quite challenging to clear all hurdles while driving in real life situation. Few years back, having met with a near death situation, a Bengaluru based Techie named Roshy John, has made it a life goal to build a self driving car. After five years of research and hard work, the final output was really fruitful as John and his small team have made India's first ever Driverless car- Tata Nano Autonomous.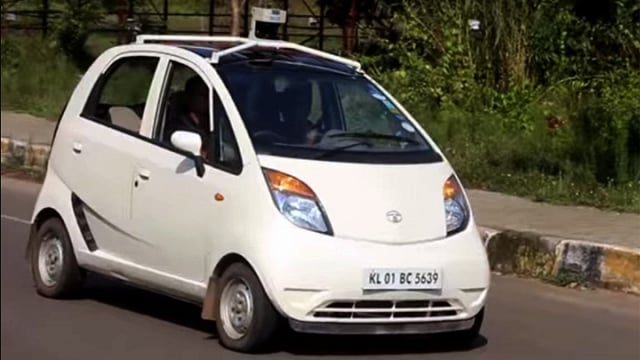 John works as practice head, robotics and cognitive systems at TCS. Having worked on various 3D model simulation softwares in his free time, he actually started working on this idea since 2011. In 2011, he purchased a Tata Nano and applied different algorithm to command the vehicle autonomously via multiple computers. The reason John decided to continue his work on Tata Nano as this car is the smallest known car in India, which comes with a rear-based engine and boast about generous cabin space. So, it allowed him to assemble all the major equipments inside the car without much hassle.
In May, 2012, John and his team drove the autonomous car on the roads of Bengaluru. Presently, they have been testing the car multiple times and seem to be confident about this project. After investing up to INR one crore in this project, John will soon try his hands on other cars as well. Till now, John has been called up by various automakers but he keeps working independently. According to him, the inspiration to build the self driving car came from the hunger of innovation in the field of robotics and automation, which will also act as a source of inspiration for others.
Recommended: Mahindra Developing Driverless Technology in India
Get latest and updated information about automobiles on our Google Plus Community Speed Gears.