The re-launch of once mass popular classic Jawa bikes has been nothing less than a true milestone. Not just for the fans but the event is nothing sort of a dream come true for the owners too. Jawa Motorbikes will dawn India and ASEAN roads under the Classic Legends. Classic legends is primarily owned by Anand Mahindra, Chairman of Mahindra Group. Mr. Mahindra's childlike enthusiasm for Jawa bikes is not a secret and in his own words "A legend has been resurrected with the launch of Jawa motorcycles in India" explain the man's affinity with the classic brand.
The classic bike segment is a fiercely competitive segment in the Indian Motorbike segment. Royal Enfield commands a major share of this and Jawa bikes it seems are bent on taking on the Goliath at the very first attempt itself.
Read More: Jawa Motorcycles to Open First Dealerships in Major Metro Cities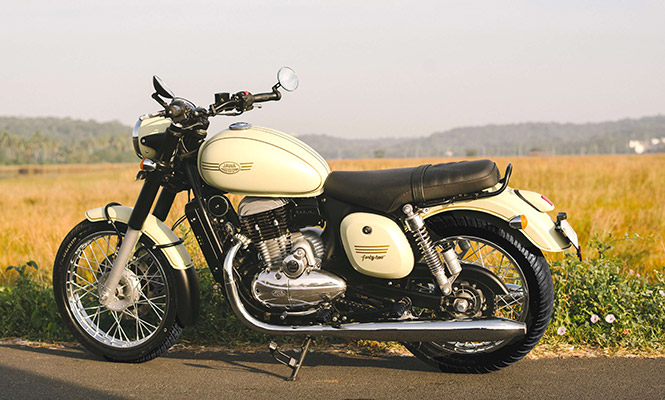 We hear Jawa dealerships will be strategically opened near Royal Enfield dealerships. Posters have already been placed on locations and the first two offerings from the yesteryears champion would be Jawa and Jawa 42. First of such posters is has already been put up in Chennai. However, dealerships will in all likelihood spring up parallely in Mumbai, Pune, Delhi, Hyderabad too. These fist batch of dealership will open up by end of this year. Second batch of dealers will follow suit across Bangalore, Chennai, Kolkata by January 2019.
The decision to open dealerships adjacent to Royal Enfield dealerships is seen as a move to target and attract potential Royal Enfield customers. Bike lovers would be able to compare Jawa and RE concurrently and make the best choice. The retro look Jawa offerings will see eye to eye with the Royal Enfield counterparts. Reportedly, Classic legends pvt. Ltd. had given glimpses of look and feel of dealership models during the launch event itself.
Reportedly, Jawa had showcased three of its offerings for the Indian audience during the event. These were Jawa, Jawa 42, Jawa Perak. Out of the three the first two have already been launched but Jawa Perak will see a June 2019 launch. Online Bookings for Jawa and Jawa 42 are open for a token amount of Rs 5,000 only.
Royal Enfield is undoubtedly a beast when it comes to the hunky classic bike segment. It enjoys majority market share as well as a Royal Fan Base. Making inroads into this would require something special as Bajaj Motors would know. Bajaj Avenger and most recently the Dominar 400 have proved futile attempts in stealing some lustre from the RE marquee. It would be interesting to see how the 293cc Jawa and Jawa forty two offerings stand up to the challenge. Winter is here and only time will tell if the two bikes with 27 bhp power and 28 Nm torque have enough steam to topple RE from the throne.