Pakistan designed a replica of the KTM Duke 200 which is on sale entitled as the Sigma Rokk 200 in Pakistan. In a glimpse, one can sense how poor replica is this, Sigma Rokk 200. Draped in gaudy green and red colour paint job, the bike gets poor fit and finish. One can't sure by looking it, that it is really based on trellis frame or that also been constructed by arbitrarily welding metal bars together.
If the hardware components of the Sigma Rokk 200 took into consideration, at the suspension front, the replica gets telescopic forks instead of the USD forks of the KTM Duke 200. The braking setup contains large disc brakes comparatively, such we see in Hero Octane bicycles. Going by the company's website, the bike is loaded with a 200cc, air-cooled engine. However, the churned power figures did not match to Duke 200's power output. If both the bikes compete in a drag race, the Duke with 200cc, a liquid-cooled motor will the Sigma Rokk 200 badly.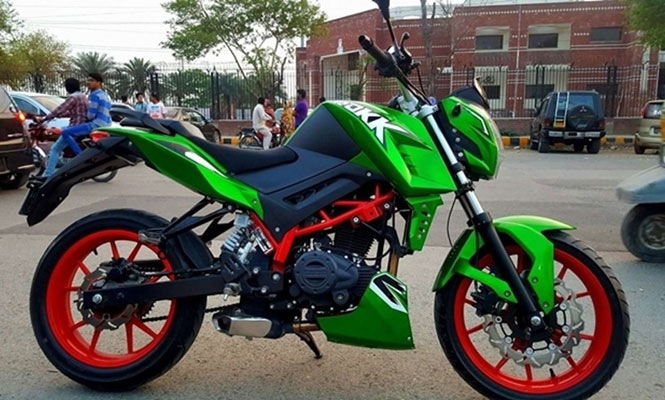 For the Sigma Rokk 200, the concerned website is advertising the bike on the selling points of "Good Sound" and an "attractive colour with beautiful road presence".
Read also: Chinese two-wheeler manufacturer Feely Unleashes New 450cc Bike
On the bike priced at 1.41 lakhs, the only component which resembles the Duke 200 is the wheel rims for which the owner will pray to god that doesn't crack down under harsh braking. The company offers the warranty for only 1500 kms for the Sigma Rokk 200. Whereas, the Duke 200 will last for years. Well, these are just the views only after looking at this replica. As, one should understand that designing, developing and selling a vehicle in a country is not easy. It takes years to design, alter, research and development before any vehicle hit the ground.