The petrol and Diesel prices in India that revise on a regular basis system, witnesses a pause of 19 days and not get revised. It means no fluctuation, up or down is experienced in the fuel pricing during this session. And coincidently a day after Karnataka elections the prices have increased. As per the Wire.in reports, it somewhere has sparked allegation on the government, suspicion over controlling fuel prices in India.
Currently, the petrol price in Mumbai is Rs 82.68 a litre and in Delhi its Rs 74.84 a litre. Pre-increment, late last month, the petrol price was at Rs 81.96 per litre and diesel prices were at Rs 69.54 in India's financial capital. While, in Delhi, the diesel prices crossed over Rs 64 per litre. These were the highest ever recorded prices of diesel and petrol in both the metro cities.
Read also: How to Increase Mileage of Motorcycles Manually?

Earlier, the control over revising fuel rates on 1st and 16th of each month was under the supervision of the Indian government. That was a 15 years old practice and handed over to the state-owned oil firms Indian Oil Corporation, Bharat Petroleum Corporation and Hindustan Petroleum Corporation since June 2017. Now the prices of petrol and diesel are revised on a daily basis. By which, the petrol and diesel price have seen the growth of Rs 5 a litre over the last three months.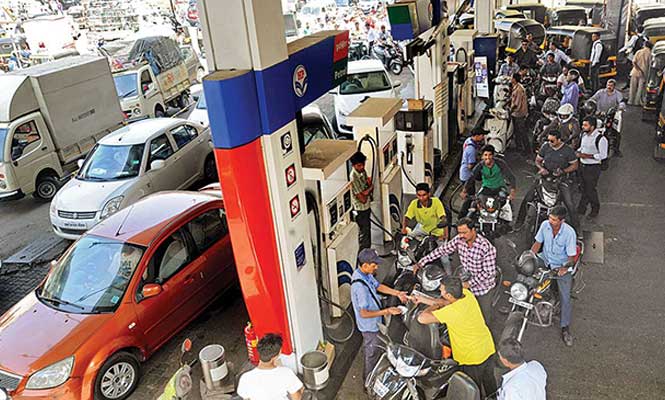 fundamentally, the increase in the rate of crude oil internationally influenced the price of petrol and diesel. Also, our country imports a big share more than 80% from the International market.
Earlier, an announcement was made by the Oil Ministry in order to bring down the excise duty on both petrol and diesel that could lower the impact of rising international crude oil prices. However, the announced budget by Finance Minister Arun Jaitley on 1st February ended up the excise duty control on fuel prices.
Recommended: Mind Blowing Fuel Inventions for Two Wheelers
India ranks top among all South Asian countries, in concern of high tax value in retail prices of petrol and diesel. The country charges more than 40% of petrol value and 38% of diesel as levy tax.
If the excise duties on the fuel are considered, it has been increased around 9 times in time duration of November 2014 to January 2016. Yet only once in October 2017, it had been reduced by INR 2. At that time, the petrol and diesel retail at INR 70.88 and INR 59.16 per litre.
The ANI reports, the price hike issue of petrol is not limited to one state. Also, it has been transferred to GST council for an eventual decision. Petroleum Minister Dharmendra Pradhan on petrol price increase in Madhya Pradesh said the council has been appealed to look into this matter of fuel price hike.