Car manufactures inaugurating the new F.Y. with the revised prices of hatchbacks. Renault India has declared a price hike over its Renault Kwid range which includes 0.8L and 1.0L SCe by up to 3% with the effect of April 1, 2019.
In India, there are many Renault lovers who make this small powertrain fascinating a good number of drivers. In December 2018 also Renault celebrated the milestone of selling 5 lakhs cars till that time which includes more than 2,75,000 Renault Kwid.
Read Also:- New Joint Board Will Be Created By Renault, Nissan and Mitsubishi: Declares MoU
Overall, the year 2018 has not witnessed any significant growth, but a decreased sale from 1,12,477 units sold in 2017 to 82,368 units sold in 2018, indicated a decline of 27%. The last two years decline in sales has doubled the losses and blocked the carmaker to expand its market share from somewhere around 2% to 5 %, so to effectively meet the high input costs, neutralize the losses and to regain its priority, Kwid is trying to alter its market strategies and to update its product portfolio with the latest models and upgradations.
Renault will soon introduce the Renault RBC MPV based on Kwid in India, currently, a vehicle is under active testing. And recently, after Tata Motors' declaration of a price hike up to Rs 25,000 on their cars. Now Renault confirms the increment in prices on its an entry-level hatchback by 3% wef April 2019 due to the rising input costs.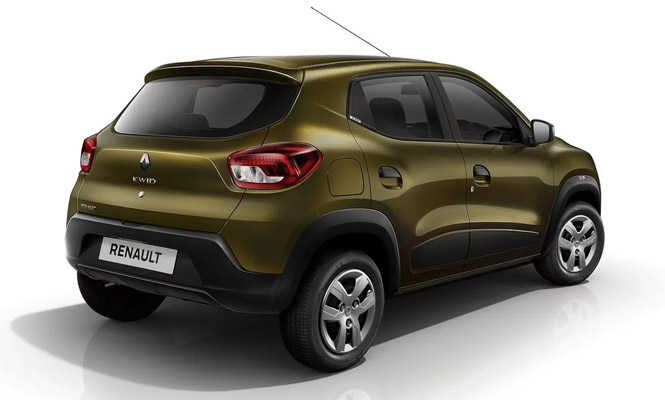 Coming to the Kwid exhibits a 7-inch touchscreen infotainment system, air-conditioning and power windows with the Safety features of driver airbag, ABS with EBD, driver and passenger seatbelt warning along with a standard speed warning alert across all variants. The Kwid can be owned in either 800cc or 1.0-litre SCe (Smart Control efficiency) petrol engine. The former (0.8-liter engine )delivers 54PS of power with a fuel efficiency of 25.17 kmpl.It can be had with a 5-speed manual gearbox only.
Read Also:- Renault Kwid EV got revealed in leaked Drawings; Production starting Mid-2019
The latter (1.0-litre engine) produces 68PS with a fuel efficiency of 21.7 kmpl. It comes with an option of 5-speed manual and an AMT gearbox as well.
The new and old prices of the Kwid are compared here in the table:
| Models | Old Price (INR) | New Price (INR) |
| --- | --- | --- |
| Kwid Standard | 2,80,000 | 2,88,400 |
| Kwid RXE | 3,22,000 | 3,31,600 |
| Kwid RXL | 3,49,000 | 3,59,470 |
| Kwid RXT (O) | 3,92,000 | 4,03,760 |
| Kwid 1.0 RXT (O) | 4,14,000 | 4,26,420 |
| Kwid 1.0 Climber | 4,39,000 | 4,52,170 |
| Kwid 1.0 RXT (O) AMT | 4,44,000 | 4,57,320 |
| Kwid 1.0 Climber AMT | 4,69,000 | 4,83,070 |
The arrival of a new financial year marks the rise in prices of hatchbacks. All carmakers are likely to raise the prices of their models from April 1 onwards.