Rimac's new electric hypercar is among the fastest cars in the world. The new hypercar can touch a top speed of 258 mph (415 km/h) and has appealing features like face recognition locks and level 4 autonomous driving. The performance figure of the C_Two is high as well. With the electric motor, the hypercar generators 1,914 horsepower (1,417 kW) and a peak torque of 2,300 Nm. It touches a cheek-flapping 1.85 second 0-60 mph (0-97 km/h) sprint in acceleration. The numbers are indeed rare and hallowed as compared to other hypercars.
It has been two years since the Concept_One launched, and the C_Two is here to make performance figure double. The ultra-high speed performance of the electric cars is assisted by an amazing drivetrain. The two front wheels of the car are driven by single-speed direct drive motors and the rear having two-speed gearboxes, one for brutal low-speed acceleration and another one for intense top-speed work.
Read Also: Tata Motors Introduced EVision Concept At Geneva Motor Show
It has an intelligent torque vectoring to make the wheels pointed in the same direction. You can select how much drift is required through a twisty knob on the dash to make the car run gradually from all-wheel drive to rear wheel drive.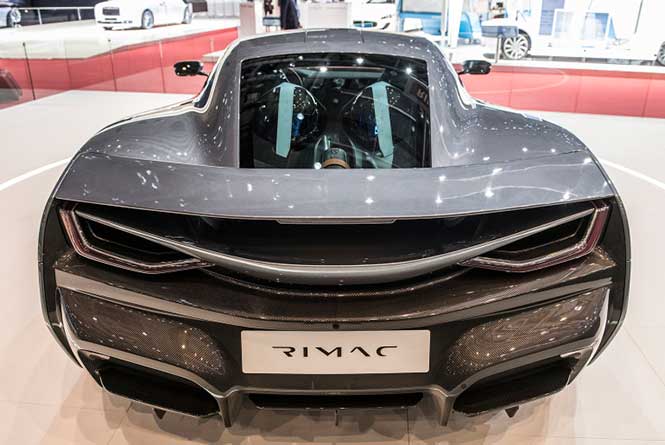 The car has carbon on gull-wing doors, external bodywork and the monocoque chassis to maintain the weight down to 1,950 kg (4,300 lb) with the heavy 120 kWh battery pack.
It has the face recognition software to decide whether to open the doors or not. The sensors of the car detect the weather and adjust the powertrain accordingly as well. This is not known how exactly they measure the feelings, the seats of the car are fitted with sphincterometers to decide the fish-mouth gaping.
Check This Full News: Geneva Motor Show 2018: Live Updates
Embedded with high tech sensors (six radars, eight cameras, 12 ultrasonic dots and LiDAR), 72 ECUs and processors, this is capable of achieving level 4 autonomous driving.
The price information is still not out, but we expect more people will buy this car to experience the real thing like a fairy tale.