Are you planning to buy a mid-size sedan under Rs 15 lakh, then we have the 5 best picks for you to help you choose the most desirable hatchback. Lots of people are looking forward to buying a new sedan and there is plenty of options available which bewilders the buyers. Each fortnight a new variant with advanced and trendy features is welcomed in the segment. Refinement in features blends the utility & power with luxury while offering you a safe & leisure drive. So to help you figure out the finest for you, we are presenting a list of top 5 models -Hyundai Verna, Maruti Suzuki Ciaz, Honda City, Toyota Yaris or Skoda Rapid with its styling features and prices. Go through the list of five champions to single out the best of the best.
Skoda Rapid
The Skoda Rapid is one of the best C Segment cars available & has always been a game changer in the Indian market. It was first entered back in 2011 and again made entry with an updated facelift of the top-spec Rapid Monte Carlo variant. Skoda fulfills its promise of less emission and dynamic performance with 119hp, 1.5-liter petrol VTEC engine. The mirror link touchscreen, the reverse camera alternative with the electronically flexible ORVM's, climate control facility with the AC and pollen filters on the passenger seats offers a delightful journey for the passengers and driver as well.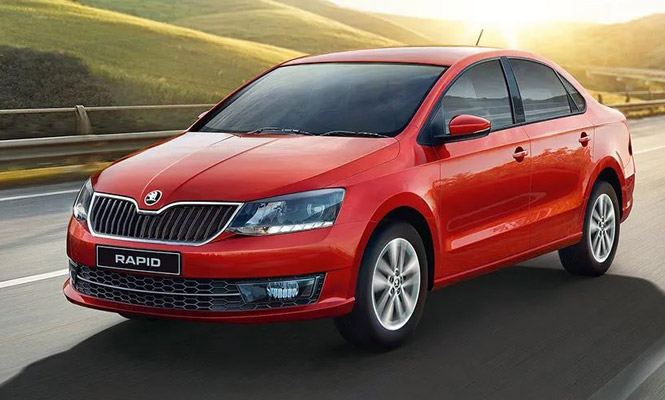 Read Also:- SIAM Reports Mere Growth of 3 Percent in Car Sales in FY2019
Different variants are available at different prices:
1.6 Active is available at 8.00 lakh
1.6 Ambition is available at 9.98 lakh
1.6 Style is available at 11.15 lakh
1.6 Monte Carlo is available at 11.39 lakh
Toyota Yaris
The Toyota Yaris is known for defining the safety approach with its class-leading safety equipment, Brake Assist, Electronic Brake-Fore Distribution, and Dynamic Stability Control, & seven standard airbags.One of the truly innovative safety features includes the Low-Speed Pre-Collision System. However, Space and comfort and engine are not too appealing. But the boot section looks alluring due to the excellently defined wraparound tail lamps along with the bulging rear bumper.it delivers a comfortable ride with its auto climate control, roof mounted air vents, rear parking sensors and touchscreen infotainment system combined with the 6-speed manual and 7-step CVT automatic gearbox.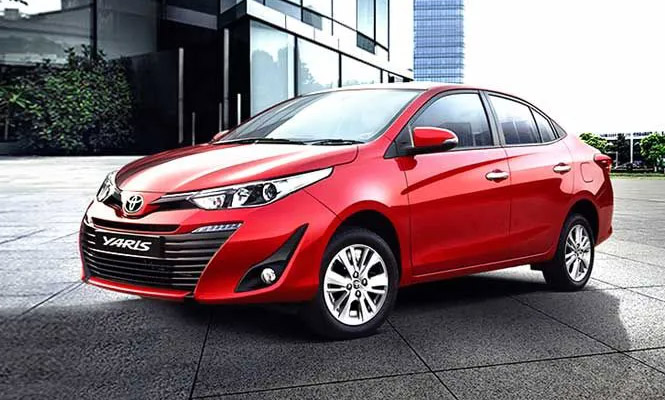 Read Also:- 2019 Mercedes-AMG C43 Coupe Launched Priced INR 75 lakh
The price of Yaris Variants are:
Yaris J is available at Rs.9.29 lakh
Yaris G is available at Rs.10.56 lakh
Yaris V is available at Rs.11.70 lakh
Yaris VX is available at Rs.12.85 lakh.
Maruti Suzuki Ciaz
Maruti Suzuki's Ciaz is mid-size sedan preferred by those who hunt for a sensible and spacious sedan in the C-segment. It has premium and spacious interiors with the coherent ambiance of the cabin. The integration of 105hp, 1.5-liter petrol moto & mild-hybrid tech makes it is dynamic & smooth.Exceptional rear-seat space labels the hatchback with a combative price.
Read Also:- 2019 Honda Civic Receives 1,100 Bookings in just 20 Days
Ciaz 1.5 K15 Sigma - Rs.8.19 lakh
Ciaz 1.5 K15 Delta - Rs.8.81 lakh
Ciaz 1.5 K15 Zeta - Rs.9.58 lakh
Ciaz 1.5 K15 Alpha - Rs.9.97 lakh
Hyundai Verna
The Hyundai Verna is a stylish and alluring sedan. Zippy exterior blended with ravishing & lavishing interior tag it fashionable. Upgraded engines under the bonnet make the Hyundai a choicest petrol mid-size sedans. Although rear-seat space adds disadvantages to this premium but driver seats are too comfortable and adjusting that it turns driving into leisure. The dynamism multiplies with its 123 hp and 1.6-liter petrol engine.
Read Also:- Jaguar XE - A Refined Version Unveiled
The mid-size sedan is available at:
Verna 1.4 VTVT E for Rs. 8.08 lakh
Verna 1.4 VTVT EX for Rs.9.29 lakh
Verna 1.6 VTVT SX for Rs.9.99 lakh
Verna 1.6 VTVT SX(O) for Rs.11.69 lakh
Honda City
The Honda City endures being prominent among the best cars in the segment. Entry in the massive cabin through large & wide doors brings the person in a different world of luxury embellished with well-designed comfy seats, multiple cubby-holes, various cup holders, rear seat area and the unique touch controls for the air-con. The hatchback is well equipped with 1.5-liter petrol VTEC engine, delivers 119hp,'s combined with a stable suspension that exhibits good composure at high speeds and remains unruffled even when accidentally met by a rough patch.
Read Also:- Top 10 Light Weight Cars in India on Sale: Maruti Cars on The List Too
The variants of Honda City is available at:
City 1.5 i-VTEC SV for Rs.9.70 lakh
City 1.5 i-VTEC V for Rs.10.40 lakh
City 1.5 i-VTEC VX for Rs.11.56 lakh
City 1.5 i-VTEC ZX for Rs.12.75 lakh