Apparently, the South Korean Conglomerate: Samsung is in headlines from a long time due to its upcoming metal clad smartphone, Galaxy A7 and Galaxy S6. But, company seems intended to gain more repute and market shares, therefore it's striving to bring a new bevy of smartphones in coming days. In this sequence, a whole new mobile phone, called Galaxy Grand Max has emerged in tidings.
By courtesy of Sammobile, a leaflet from South Korea has been widely shared over cyberspace, which is clearly suggesting about a forthcoming member of Galaxy Grand Series. Discussing about the listed specs in leaked catalogue, handset will be appended with a Model Number: SM-G720N0, whereby it looks like a companion of recently spotted, Galaxy Grand 3 (SM-G7200).
Here, it has been claimed to feature 5.2-inch HD TFT LCD display with a pixel resolution of 720x1280p. The incorporation of 1.2GHz quad-core processor along with 2500mAh battery have been also mentioned by informant. In terms of imaging, device has been said to be outfitted with a 13-megapixel main shooter alongside a selfie camera of 5-megapixel.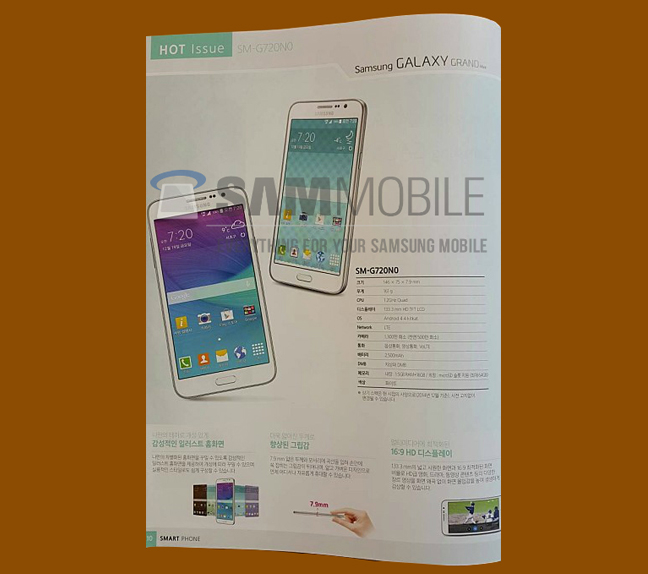 On software front, mobile phone will be decked with Android 4.4 KitKat operating system, instead of Google's latest Android 5.0.1 Lollipop OS. Memory-wise, Grand Max will comprise 1.5GB RAM along with 16GB of expandable internal storage that can be enlarged upto 64GB through a microSD card. Notably, its compatibility with 4G LTE network has also been boasted by source, which will be the main USP of smartphone.
Moreover, handheld will have a thickness of 7.9mm, while its overall measurement is yet-unknown. Beside disseminating grand lineup, this tech giant is also preparing to launch a new series of smartphones: E-series. To remind you, its two heirs: Galaxy E5 and Galaxy E7 had been disclosed in previous week and speculated to be embarked in 2015, but we are yet to receive information about the arrival of Grand Max.
Source: Sammobile.com