Despite receiving tremendous response continuously from the public for full-featured products, China based corporation: Xiaomi doesn't look contented. As we know, tech giant has already been rumored to launch a raft of new devices in this year in order to capture the marketplace of smartphones. And now, it has made yet another attempt to gain more leveraging i.e price cut of Mi 4.
Notably, 64GB model of this hot-selling handheld got the second price cut in span of two months, and announced to go on sale at Rs. 19,999 via E-commerce website: Flipkart. However, multiple reports are suggesting that price cut is applicable from today, but currently it is listed as "Out of Stock" on online portal. Well, this highly-acclaimed creation of firm has become Rs. 4,000 cheaper than the original price i.e. Rs. 23,999. To recall, phone had been designed in two storage variants, where 16GB edition costs Rs. 17,999 (Launch Price is Rs. 19,999).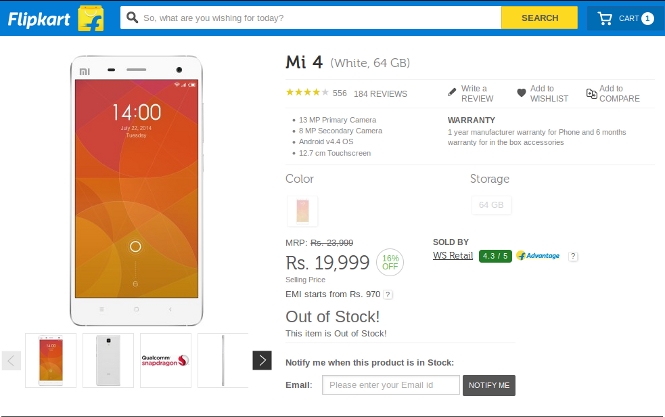 As the matter of fact, corporation has adopted the well-known profit-oriented marketing tactic, which will surely lure the masses that want to purchase an efficient smartphone at around Rs. 20,000. By reducing the monetary value of gadget, Xiaomi has made a foray against the handsets present in same price category, where OnePlus One, Asus Zenfone 2 (4GB model) and Lenovo Vibe X2 are the most powerful Android based smartphones.
If we will talk about the specs of Xiaomi Mi 4, it's powered by quad-core Qualcomm Snapdragon 801 processor and features an elegant 5-inch full-HD display. The inclusion of 3GB RAM and a 13-megapixel rear camera also makes the phone quite captivating. Click Here to get a detailed information about phone.