The biggest International Consumer Electronic Show is not so far to knock the doors of Las Vegas. Every tech Company, from Startups to well-established, are prepared to blossom the event's floor with their bizarre innovative products. A Taiwanese tech gargantuan HTC has also done with their preparation to fill the aura with eccentric products. Along with Sony and Asus, the HTC has also fixed its seat at CES 2015.
The Taiwanese mobile maker has posted a teaser image of invitation on its Weibo account. The teaser is engraved with some text which reads, "2015.1.6 CES Let's Desire more." It simply gives the indication of a single or an array of Desire series devices. The same poster also denies from the launch of anticipated HTC Hima aka One M9.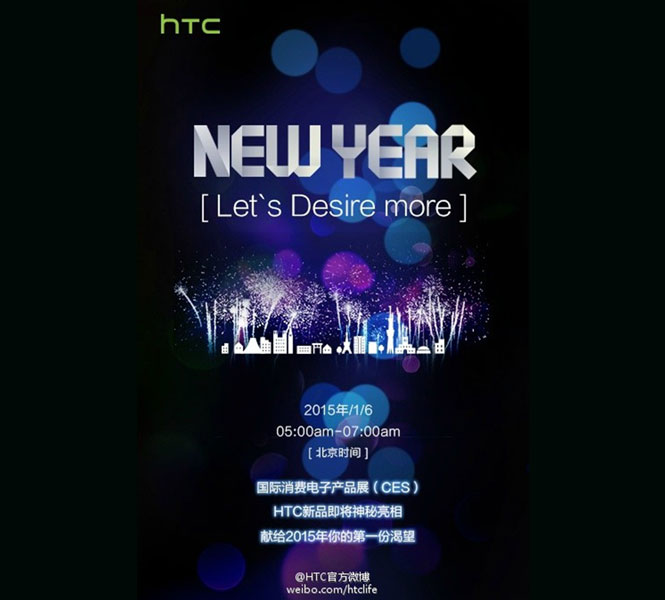 It also makes us clear that something new will be seen at the event and this would be happened on January 6. It's really very hard to speculate what will be arriving, either a wearable or a smartphone. It could be possible that something selfie centric will again flourish in the HTC Desire range. It is expected that Taiwanese tech giant will showcase a premium device as an invitation is not a good idea for a mid-range smartphone. On the other side, the HTC Hima will take enough time to make its debut, so no flagship will be showcasing apparently in Las Vegas. Earlier it was said that Sense 7 UI will make its first appearance with HTC Hima in the month of March.
It seems like the teaser has created a huge mystery over web. Overall, it's hard to conclude what the tech giant will bring for its admirers? Well, you won't wait for a long as the CES 2015 is just a few steps away to unfold.