Apple is so close to launch its successor of alleged iPhone 6 in an event. Everyone is prepared with their Tux to capture the most rumoured device. People are keen to take a glimpse of the putative handset of Cupertino giant. It is said that two models – 4.7 inch (iPhone 6) is coming in the September 9 event to sizzle the floor with its majestic appearance. Just a few days are left and the rumourland is still enjoying the taste of canards.
The new member in the rumourland has come from Best Tech Info which has posted a leaked image of 5.5 inch model's rear panel alongside 4.7 inch's. In the image, you can easily notice that 4.7 inch iPhone 6's rear panel is interlaced with lots of components. On the other side, the image of bigger one is showing only the rear panel's outer look which points out the rear camera with flash and Apple logo cutouts. The rear panel of this anticipated smartphone was spotted sometimes earlier in another leak.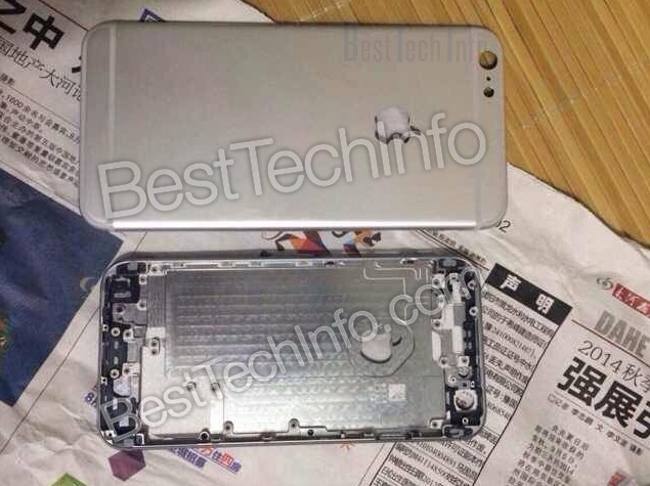 Going back in the tattletale, some reports had claimed that September 9 will bring 4.7 inch iPhone 6 while the bigger one has been delayed to launch and expected to come in the real world next year in 2015.
Another leak in the bunch has suggested that the alleged device may come with 128GB storage option. Gforgames had claimed about three storage variant of much rumoured handset which include 16GB, 64GB and 128GB. The thing is to notice that, no 32GB model is mentioned over here. It is expected that Hynix and Toshiba will supply 16GB variant and 64GB will be supplied by Hynix, Toshiba, and SanDisk. Apart from this, Toshiba will be the only supplier of 128GB storage variant.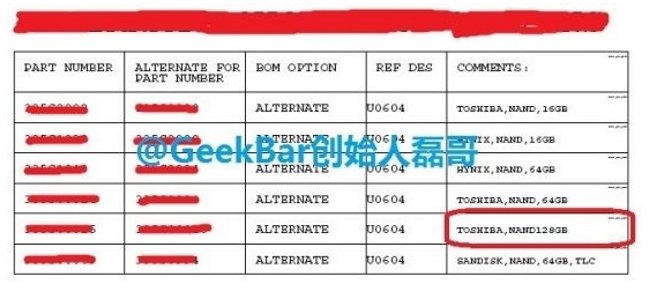 Image Source: GeekBar
Some contradicting reports had also come in the line which were varied with time as it was speculated earlier in a report that 5.5 inch iPhone 6 (rumoured as iPhoneL) would be the one that will have 128GB storage option and the 4.7 inch model would be limited to 64GB storage only.
The point over here is what you expect from iPhone 6, what is roaming around internet and what it will be in the real?
Source: BestTechInfo.com