After bundling a bunch of rumours, one genuine confirmation has been arrived to give this bunch a stop. Here, we are talking about the Redmond juggernaut's would be flagship device Lumia 940XL. After listing one new rule in its number game for Lumia devices and endowing it with several canards from few months, a mobile advertising network AdDuplex has come to mark confirmation on the existence of Lumia 940XL.
As per WMPU reports, it's been confirmed that this Microsoft flagship will bring so enchanting features to knock everyone's socks off. Inclusion of quad-HD display is enough to give out of the blue experience if it does so. Lumia 940 has also been got the confirmation mark on the same advertising network.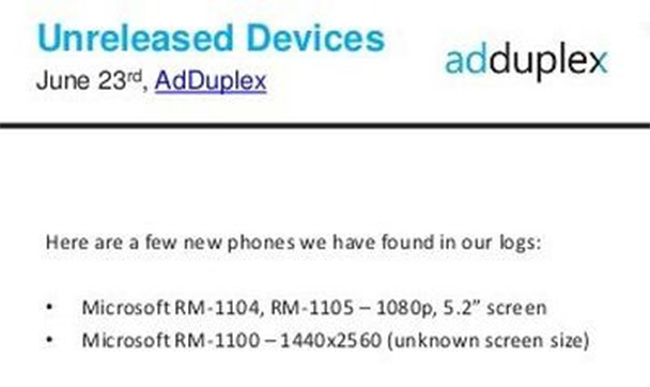 With model number Microsoft RM-1100, the Lumia 940XL has been revealed in AdDuplex's document with a crystal clear Quad-HD display which has 1440 x 2560 pixels. There is no word on its screen size, however, it is rumoured as an enormous 5.7-inch display. So, it could be possible that Microsoft will bring a phablet this time as a flagship device. Earlier, we had seen Lumia 640XL phablet which is also crafted with a big display. Well, this would be the first Windows 10 handset to come with such astonishing features.
One more model has also been listed in the same document with model number Microsoft RM-1104 which could be the Lumia 940 with 5.2-inch full HD (1920 x 1080 pixels) display. Lumia 940 XL is speculated to come loaded with octa-core processor and a stunning 25-megapixel rear-facing PureView snapper which would be incredible as the Lumia device are known for their great imaging quality. This would-be flagship will succeed in win people' hearts hopefully whenever it makes entry on earth.
Source: windows10update.com