Microsoft has once again made itself so indulge to the reports with a spotted removable battery to feature longer life with its OS. The smartphone, Lumia 950 XL is the benchmark of all the predecessor that will provide high specs along with a huge battery. Just ahead of its launch, the device is again leaked into the images with a gigantic battery and camera module in a unit without a back shell.

As per the reports by teasers, both the Microsoft Lumia 950 XL and the Lumia 950 would feature triple-LED flash modules at the rear. It is also rumored to support a dual SIM variant, probably in India for both the smartphones. Not only the battery that is in leaks, the back panel of the smart device is also in images. The back panel feature a rubber-like case in both the segments. Also tipped in leaks, Lumia 950 will render front facing flash with a leaked report to launch Lumia 550 soon.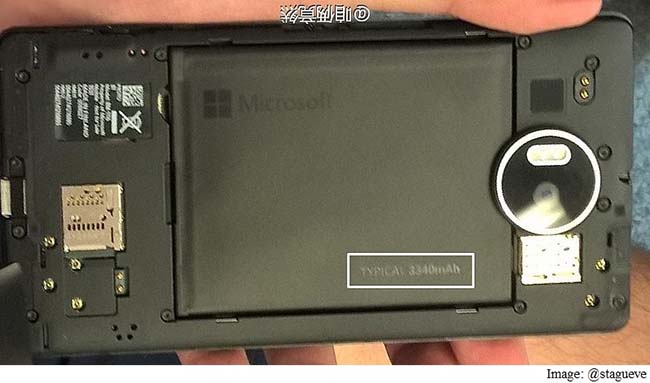 The leaked images, posted on Twitter by @stagueve, a tipster, on Monday suggests that the Lumia handset, specifically Lumia 950 XL would sport 3340mAh battery that is removable from the back shell. Along with this, the back panel sports a SIM card/ microSD card slot just above the battery. It is not exactly clear from the images, but seems like the battery would have to be removed in order to insert a SIM card or a microSD card. As per the trend of the non-removable battery with a seal at the back, Microsoft has broken the bars and unveiled the older concept with a gigantic support for a change.

Earlier also, the device has been leaked in reports several time with the specifications to place 5.2-inch QHD display in Lumia 950 to power Snapdragon 808 processor coupled with 3GB of RAM and a 3000mAh battery. The Lumia 950 XL is said to feature 5.7-inch QHD display, powered by Snapdragon 810 chipset and coupled with 3GB of RAM. Both the smartphones are going to have 21MP rear edge with 5-megapixel selfie sensor. As expected, the company is not only working upon the three smartphones, but also will unveil Surface Pro 4 tablet, the successor to the Surface Pro 3 at its Tuesday event.