Though, cyberspace has received a bevy of rumors and tidings regarding the upcoming handset of Nokia till now as well as noted designer: Jermaine Smit had also shared a plenty of conceptual images of next-iteration of tech giant. But now, this Finland-based Multinational Corporation has surprised the tech world by contradicting all those reports, which were suggesting about its regress in smartphone market in 2016.
Notably, company has released an official statement, in which it has denied about the plans to return to phone manufacturing. Commenting on the statements, "Nokia notes recent news reports claiming the company communicated an intention to manufacture consumer handsets out of a R&D facility in China. These reports are false and include comments incorrectly attributed to a Nokia Networks executive." It also stated that "Nokia reiterates it currently has no plans to manufacture or sell consumer handsets."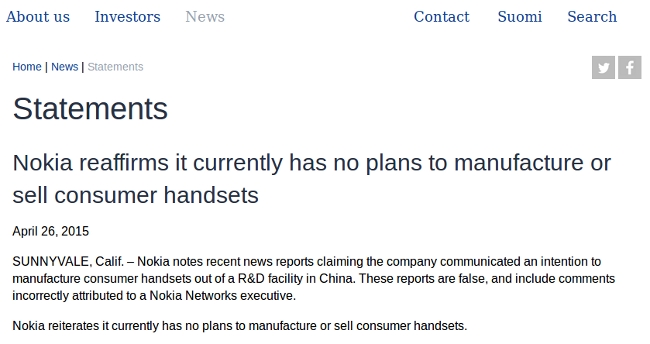 As we know, this well-know mobile maker is currently pursuing multi-billion dollar deal with Microsoft. In agreement, firm has agreed with Redmond giant that it will not enter into mobile phone business before 2016. And, Nokia is not allowed to introduce any phone bearing its name until December 31, 2015.
However, company is not bound with any legal barriers from crafting and launching Nokia-named consumer devices, so that Android 5.0 Lollipop-based: N1 tablet had taken nativity, through which manufacturer has gained a record-breaking earning and a lot of acclaim. Click Here to get a detailed information about tab.