Now, the hotly-anticipated scion of Samsung's A-Series smartphones, Galaxy A7 has received the certification from FCC. Apparently, the agency has publicized all most specifications of this upcoming device, which is expected to feature fully metal uni-body frames just like its predecessors Galaxy A3 and Galaxy A5.
According to the catalog of FCC, the device has been enclosed with a model number: SM-A700FD, which is in-line with previous Galaxy Club reports. Here, it has been claimed that forthcoming handset will be decked with 12-megapixel rear sensor along with a 5-megapixel front snapper to disseminate the series of camera-oriented smartphones.
Glancing at display, then informant has averred that A7 will confer a 5.2-inch screen, which produces a pixel resolution of 1080 x 1920p. To be a performance beast, handheld would comprise a 64-bit quad-core Snapdragon 615 processor that will be clocked at 1.5GHz operating frequency.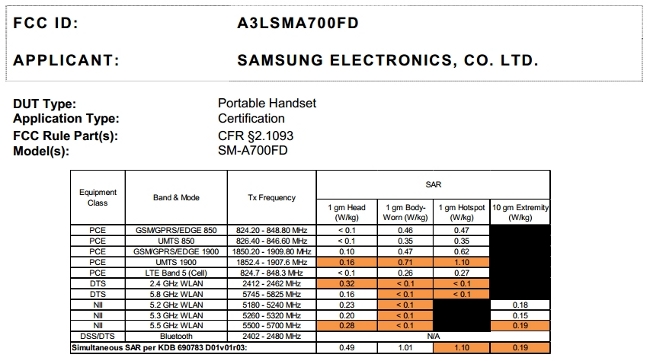 Touching the subject of memory, device will be fitted with 2GB RAM alongside 16GB of Internal storage, but there is no word about its maximum storage capacity as well as availability of a microSD card slot yet. The most highlighted part of the device is the inclusion of NFC and 4G LTE options, which we usually find in flagship devices.
Additionally, it has been claimed to be housed with GPS, Bluetooth and Wi-Fi functionality on the connectivity front. Furthermore, handset will be showcased on the ledges of retail stores with its 150mm of height and 75mm of width.
However, this South Korean giant is yet to make an official announcement regarding its brand-new heir, but the reports of Androidauthority suggest that handset might be revealed at Consumer Electronics Show (CES) 2015, which is going be held in January in Las Vegas.
Source: Phonearena.com