Sony is thinking to bring its latest flagship Xperia Z4 with some different naming. Yes, the tech giant has decided to change its name for global market. It would be Xperia Z3 + if goes with the reports.
Company can do so because this flagship has brought no big changes in design and features. It was launched earlier this month quietly and flied to impress people with its aesthetic and features. What world was expecting from the 2015's Xperia flagship, we didn't get any splendid in specs. Well, now device has come out from shell and the hordes of people are waiting to taste the smartphone, company has surprisingly decided to change the name of Xperia Z4. They are going to replace the name with Z3+. Reason is its almost identical specs.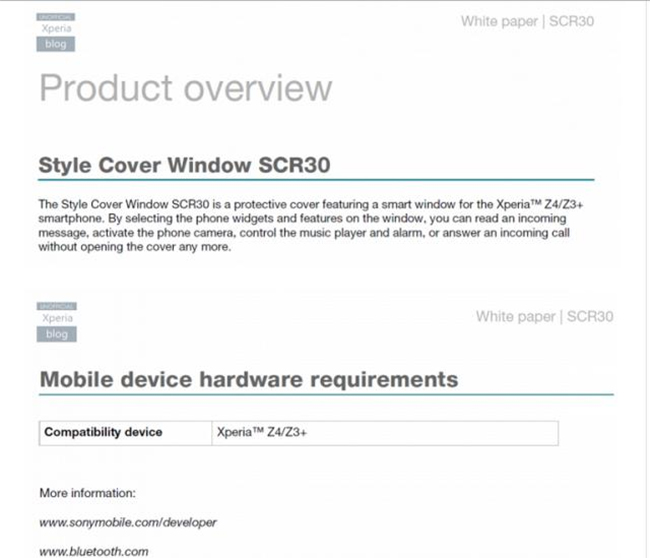 Let's talk about its specs, which make it slightly different from the Xperia Z3. Snapdragon 810, Android 5.0 Lollipop, uncapped USB port, and an improved 5MP front camera are the only features which are not the same as its predecessor. Rest of the features is almost identical with the Z3 in this new handset. It could be possible reason to bring this device in global market as the enhanced version of the predecessor and that's why company has put its name as Xperia Z3 Plus.
A white paper of Sony SCR30 Style Cover Window accessory for the Xperia Z4 has been leaked over web where a product has been listed with the name Xperia Z4/Z3+. So, it's a clear indication by the manufacturer that it is going replace its 2015 flagship name.
It has 5.2-inch full-HD display, 3 GB of RAM, 32GB built-in storage, 128GB expandable storage via microSD card, 20.7MP rear and 5.1MP front camera, and 2930mAh battery. Click here to get the complete list of specifications.