Soon after introducing a plenty of core services at annual F8 Developer Conference, now social networking corporation: Facebook has launched a new application related to its platform, which has been named as Riff. Well, it is basically a collaborative video making app, whereby users can shoot short clips of upto 20 seconds as well as they can give a title such as Make a funny face, April Fools, Birthday Wishes, Balancing Act and much more in order to instruct their friend that what kind of clips they can add on that topic.
Apparently, Riff is a part of Facebook Creative Labs project, wherein company use to develop new apps such as Paper, Slingshot, Mentions, Rooms and Groups to bring intuitive technologies among people, for which they crave. On the occasion of inauguration, Product Manager at corporation: Josh Miller stated, "The potential pool of creative collaborators can grow exponentially from there, so a short video can become an inventive project between circles of friends that you can share to Facebook, or anywhere on the internet, at any time."
Here, you must be thinking that how does the new quest of tech giant work? So, anyone can start by creating a clip and creator will get a 3-2-1 countdown to approve clip before posting. But, there is no option to upload, like, comment as well as you can't edit the clips. At this place, we can say it has been developed to capture unpolished and spontaneous videos.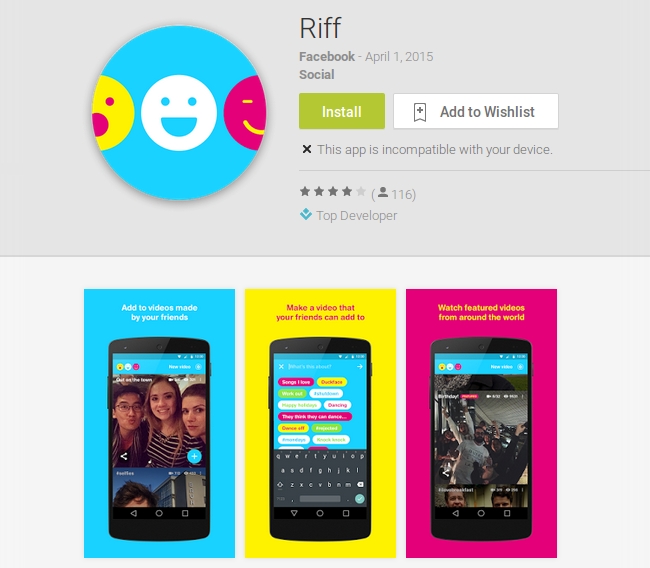 Initially, only friends of video maker or collaborators can contribute to a clip and as we have mentioned earlier, creator's friends can view and add their own clips based on that mentioned topic. Once clip will be posted, it can be seen by maker's friends of friends. After that, they can also add their 20-second videos and this way video can spread so far.
To facilitate more, "three dot" button has been provided, whereby the original maker can delete any clip. And, "collaborators can report any specific clip as offensive or whole video as offensive," says Facebook. Moreover, Riff App is compatible with Android 4.3 and iOS 8.0 and supports their later versions as well as it is available to download via Google Play and App Store in 15 languages.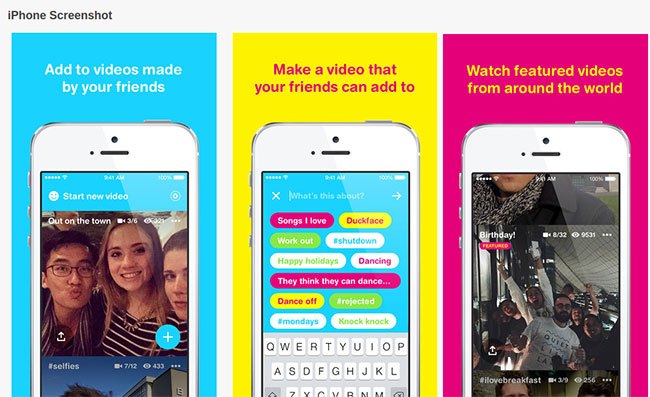 However, this is not at all the first ever app with such capabilities because JumpCam, MixBit and many more are already here and California-based giant has made an attempt to take on these services. To recall, this noted firm has recently brought an "embed video" option in Facebook to confer an improved video experience. Click Here to know more.