The users of Opera Mini mobile browser spared 36K terabytes of data in one year (June 2015 - May 2016), as per the survey conducted on the users in India.

According to the report, users of Opera Mini mobile browser spared 40,135,582 GB (36K TB) data in one year between June 2015 and May 2016.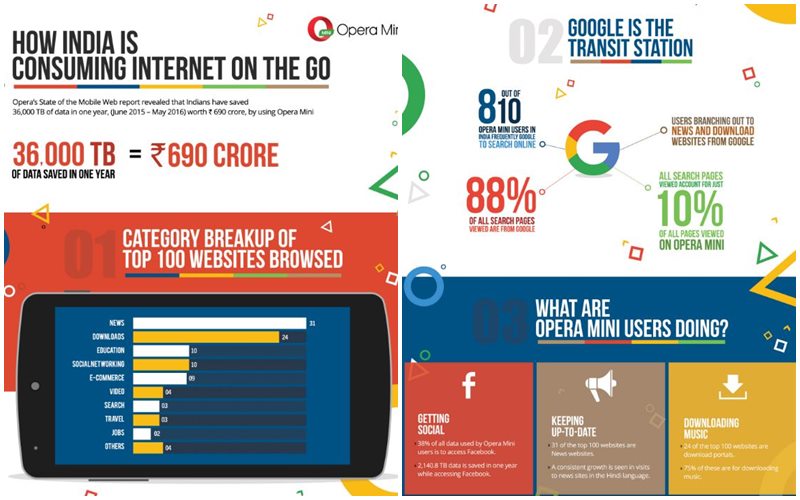 Opera Deputy CTO Bruce Lawson, who launched a report on 'Mobile - Browsing Trends in India' here, said today that "the saved data is worth Rs 690 crore when calculated on the basis of 1 GB costing Rs 173 on average." Opera Mini's compression technology shrinks data by up to 90% helping users save data, he said.

"To stay ahead of our consumers' ever-evolving needs, we keep updating Opera Mini to help them browse faster and more efficiently. The latest version of Opera Mini comes with new updates such as language support, ad blocker integration, and video boost," Lawson said.

Eight out of 10 Opera Mini users in India continuous Google to look online and of all web pages saw by Opera Mini users 55% are social networking sites, according to the report.

Out of top 100 sites viewed by Opera Mini users in India , 24 are download portals, 75% of these are for downloading music, the report said.

The information contained in the report is based on aggregated information obtained from Opera Mini servers from June 2015 - May 2016.

"Facebook leads the pack - half of all web pages opened by users are from Facebook. Other popular social destinations are blogging sites, such as Blogspot and WordPress, followed by Twitter, Pinterest, and Quora," it said.
Must Visit Our Google+ Community Page For Latest And Updated Technology Happenings Around The Globe.