A few days back, we have written about an iconic upcoming offering from the Victory Motorcycles in association with the Roland Sands Design. The Victory Motorcycles is the well-famed cruiser motorcycle manufacturer, which belongs from the American land and the Roland Sands Design have had their name in the list of the prominent custom-makers around the globe. The duo is working together to discover a whole new level of riding across the Pikes Peak International Hill Climb and named it "Project 156". The story behind the name is that the PPIHC is having 156 twists and turns all across the session and it is around 14,110 feet above from the ground level.
See Also:- Victory Magnum X-1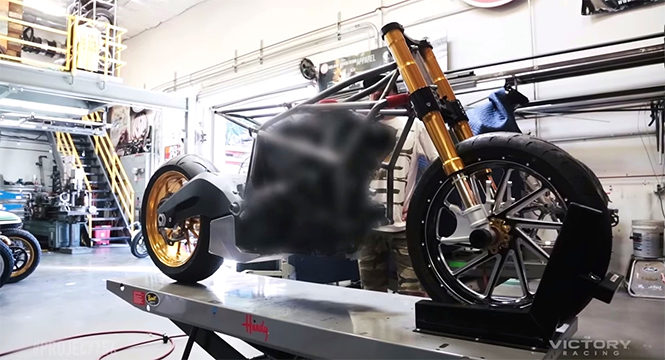 Getting into the details of the Project 156, it has been designed on a completely new format from nose to tail. The upcoming motorcycle is going to be a completely American ventured product. As, it is designed exclusively for the PPIHC, it would be featuring a lightweight and sporty makeover. Starting from the base, it is designed around a customized tubular chassis. The released video has showcased minor curves and cues along with the chassis, whereas the engine was blurred out in the video. Apparently, the Victory Motorcycles will be using a prototype liquid-cooled engine in order to power this machine.
The other supporting members are; tyres are being provided by Dunlop, suspensions are catered by the premium provider Ohlins and various other are silently involved. The ongoing project is majorly handled by Don Canet of Cycle World and Roland Sands of RSD. It really sounds amazing to witness a full-fledged sports motorcycle carrying a badge of Victory Motorcycles. The upcoming motorcycle under the Project 156 could appear as a tempting discovery for those American customers who were deucedly waiting to have a V-Twin engined sports motorcycle.
For Victory Motorcycles, getting involved in an entirely different segment could be proved as a turning point in the firm's history. However, following the introduction of the motorcycle under the Project 156, we might be expecting to behold some other models coming in our way. Stay tuned with SAGMart to know more about the upcoming product under the Project 156.