If you all want to know the extent of insanity, then check this out. The name is called Lazareth LM847- a complete bizarre packed up in a 470BHP Maserati V8 Engine. This vigorous monster is allegedly so impractical in nature, however, it is an astonishing master work done by the engineers.
Build up by the French quad-bike constructor, Lazareth, the LM847 machine is dominated by the Maserati engine. V8 is being referred here, which is 32-valve, 4.691cc power mill burns out a roaring 470BHP power at 7000 RPM. While the torque figures are somehow also fairly nice i.e. 620NM at 4750 revs per minute. Talking about the transmission, the masterpiece has got a single-speed gearbox with a hydraulic coupler and chain final drive. Despite having this bulky 400kg mass, these impressive power figures are like cherry on the cake.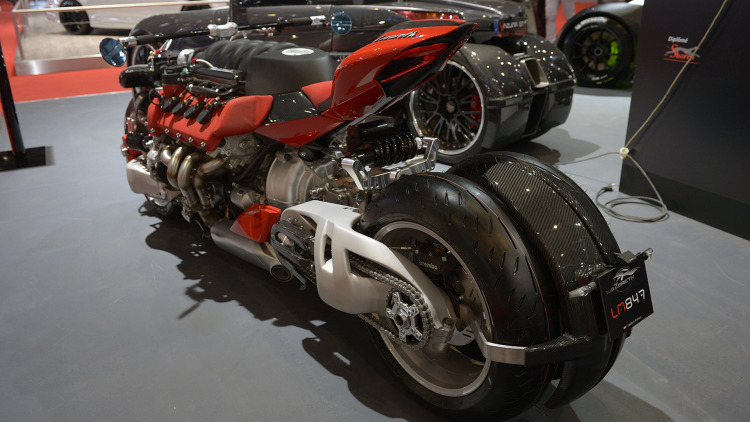 Having a glance over the rear portion, this leaning four-wheeler has taken inspiration from Ducati Panigale, which perfectly suits to this maniac. While at the front, it has got dual-wheel hub center steering- identical to the Dodge Tomahawk.
Going ahead with the technical figures, powering the suspension is TFX, which totally retains it on the road. As long as the braking is concerned, there's a two perimeter Brembo rotor, which is 420mm in diameter getting 8-pot Nissin calipers up front and 255mm Brembo rotor at the rear having 4-pot calipers.
Lazareth is going to introduce the machine at the Geneva Motor Show, in the midst of several supercar launches. This will certainly grab the attention of the masses, obviously because of the crazy design approach.