If you are thinking to buy an electric vehicle, take some breath and review this revolutionary technology to charge the vehicle at your doorstep. Similar to smartphones which are chargeable using induction, the cars will also available with the same facility.
The BMW is all set to create a platform for the wireless charging system available commercially. The Mercedes-Benz is also thinking to launch it soon along with the S-Class model.
The first model to utilize the inductive charging facility will be the 2018 530e. Firstly, the technology will be available with cars sold in the UK, China, Japan, Germany, the US. To make a system, a pad will be connected to a coil which is put on the floor. The coil transfers electricity using a magnetic field to other coil placed undercarriage.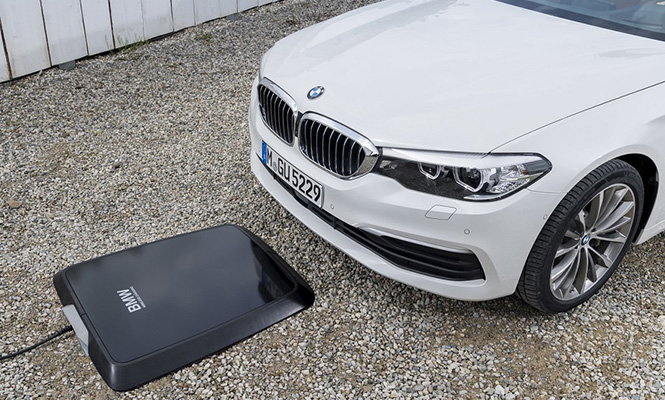 The system uses a 3.2 kW capacity battery to recharge the 9.2 kW battery of 530e in 3.5 hours. As per BMW, it maintains the 85% efficiency rate. The pad is made-up of the water-resistant coating so that it can be used outside as well. This will be practically relevant for the people living in apartment and building to charge the electric vehicle.
Read Also: Maruti Suzuki Offering Free Car Service On World Environment Day
To position the car in order to recharge, BMW again maintain a simplicity in order. The multimedia screen shows whether the vehicle is placed properly for recharge or not. The technology to charge the electric cars is expected to be advanced in the upcoming time. The technology also makes us think that in future it will be quite easy to recharge your electric vehicle as there will be more advancement on technology to charge and the number of charging station will also increase in future.