Curtiss Motorcycles is the changed name of Confederate Motorcycles that was rebranded in 2017. Likewise earlier, the brand is dedicated to rolling out outlandish and unconventional motorcycles that nowhere match the sense and practicality with the mainstream motorcycles. As of now, it came up with the first brand new machine post rebranding that is an electric cruiser concept and entitled as the Curtiss Zeus.
Apparently, the Curtiss Zeus is completely different from regular combustion-engined cruisers which are developed around their large engines and fuel tanks. It is equipped with an electric powertrain in a way that completely neglects the bases mentioned above like large engines and fuel tank. Though, the aluminium is used a lot in the Curtiss Zeus.
Besides, the fitted cycle parts are also far from the standard bits. It runs on solid carbon-fibre wheels instead of orthodox spoked wheels. Whereas, to absorb shocks, the automaker uses double-wishbone girder fork kind front suspension along with a conventional rear monoshock with the double-sided swingarm. The motorcycle's centre of mass is at belly region where its large battery pack is housed. Furthermore, in order to have a look at the drivetrain components, the company also installed clear panels at few places.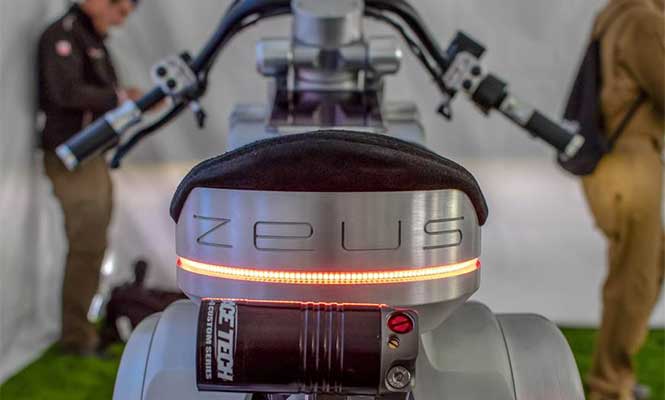 If the riding posture is concerned, it features a long, flat and narrow bench-style seat that offers a long reach to the low, steeply-inclined handlebars. Footpegs are placed just below the seat that offers a very committed rider triangle. Being to be at its proper place, the instrument cluster is positioned at the place where the fuel tank would be. A thin and smart-looking horizontal LED strip completes the rear whereas, the front gets around, minimal aluminium-rimmed LED unit.
Two electric motors powers the bike which are sourced from the Zero Motorcycles. These electric motors are capable of returning the combined power of 170bhp and 393 Nm of torque. The used battery pack on the prototype is 14.4kWh, chances are it could be replaced post the bike hit the production line. Besides, the things which can't change our travel range of motorcycle as it uses powerful electrical system and truth that it can't perform on long route besides being a cruiser.
Read Also: Engineer Designs Foldable and Lockable Bike Cover, Bike Blazer
As per the company, the Zeus will hit the production line in 2019, whereas it will be available to the audience in 2020. There are no words for bike's pricing as of now. Altogether, it is not confirmed that the production model will be all similar to the concept one. If the Confederate's history digs deeper, it has the journey of providing the production version as similar to the wild-looking concepts.