Ducati 959 Panigale Corse has launched in India at the price sticker of INR. The good amount to invest once in a while, if you had lost heart for this sports beauty, go for it. As, the motorcycle is an absolute excellence with Ducati Corse MotoGP colours inspired livery and loaded advanced electronics features. Else, you could look around to reconsider your choice with availability in different bike category and styling. As,it is such a good amount for dream followers.
In naked streetfighter segment there are four streetfighters you can buy. Let's start with the Kawasaki Z1000. Priced at INR 15.10 lakhs, the Z1000 is a litre-class naked performance packed with a 1043cc, inline-four cylinder engine. The motorcycle uses 139bhp and 111Nm of torque to propel. While, the CBR1000R which costs INR 14.42 lakhs comes with a 999cc, inline-four cylinder engine. This engine setup pumps out 129bhp and 112Nm of torque.
To buy, the Brutale 800 from Italian marque, MV Agusta, one has to shell out INR 15.59 lakhs. This masterpiece comes bolted with a 798cc, inline-three powertrain. The mill is rated to generate the maximum power of 107bhp along with 83Nm of torque. While the R1200 R from BMW is next in this category which will make you spend INR 14.90 lakhs for experiencing 124bhp and 125Nm power output churned from a 1170cc, boxer-twin engine.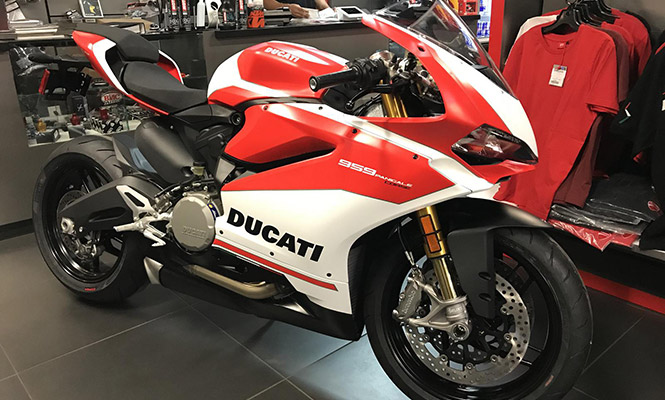 The Moto Guzzi Griso 1200 8V SE is a retro-classic, retails at INR 16.04 lakhs. The laden powertrain beneath the fuel tank, is a 1151cc, V-twin unit that is rated to churn out the power of 110bhp along with 108 Nm of torque. In the similar category with retro touch, the Z900RS from Kawasaki is also an option that is bolted with a 948cc, inline-four engine. The said unit makes out 108bhp and 98.5Nm of torque.
There are two adventure tourers which cater Indian market in similar price range. The Ducati Multistrada 1260 and the BMW R 1200 GS. The Multistrada 1260 which comes packed with a 1262, L-twin engine with 153bhp and 129Nm, is on sale at INR 15.99 lakhs.
While, the BMW R1200 GS retails at INR 15.70 lakhs and uses 124bhp and 125Nm extracted from a 1170cc, boxer-twin engine.
Buyers with a great build could consider power cruisers in the price range from brands like Harley-Davidson, Triumph, Ducati and Suzuki. The Fat Bob from Harley Davidson serves masses at the price tag of INR 14.69 lakhs. It is powered by a 1745cc, V-twin engine claimed to generate 145Nm of torque. The Thunderbird Storm, second in row asks for INR 14.67 lakhs. The cruiser uses a 1,700cc, parallel-twin engine that is rated at 97bhp and 156Nm of torque.
Meanwhile, the Suzuki Intruder M1800R and the Ducati Diavels attract the price tag of INR 16.04 lakhs and INR 18.47 lakhs respectively. The Intruder gets powered by a 1783cc V-Twin engine is claimed to propel out 127bhp and 160Nm of torque. The last in listing, the Ducati Diavel is loaded with a 1198cc, L-twin engine churns out 60bhp at 9250rpm and peak torque of 130Nm.