Enflux Two is a naked streetfighter offering from the Bengaluru based startup, Emflux Motors. It is the Model 2 from the electric motorcycle makers, which has been teased online via leaked digital image.
The Model 1, christened as the Enflux One is India's first ever all-electric sports bike. Showcased at the 2018 Auto Expo, the motorcycle has been launched in the country. The Emflux One will be manufactured in a limited count of just 499 units, out of which Indian market will get 100 units while the remaining 300 units meant for export markets.
The Emflux One is being offered in two variants- the standard and the top spec trim. The former is tagged with the price sticker of INR 6 lakhs, while the latter one which packs components such as Ohlins suspension, carbon fibre panels, and forged alloy wheels will attract INR 11 lakhs pricing. Both the trims use different battery packs for propelling power. The base variant uses the small capacity battery with the travel range of 150 kms. While the top spec variant packed with a bigger battery will offer 220 km travel range. The used batteries will be a lithium-ion battery that can be charged up to 80 per cent in just 36 minutes from a fast charger. It is capable of hitting top speed at 170kmph and makes the bike reach o to 100 kmph in under 3.5 seconds.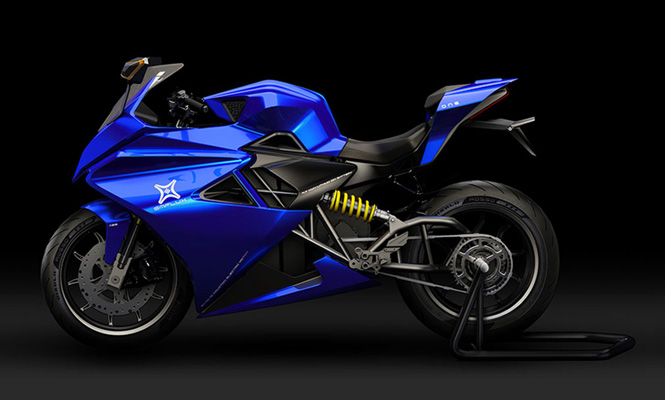 The model 2 of which teaser has been emerged online is also likely to get fitted with the same motor and spec of the Emflux One.
For the new teaser, Emflux says– "So, while we've been busy getting the Emflux ONE ready for production, our Designers and Engineers have been working on some really cool stuff in parallel. Imagine a powerful Naked Streetfighter, only this time, it's Electric. Imagine the awesome power of electricity packaged in a lethal street-racing machine that takes no prisoners. Imagine carving through traffic like a hot knife through butter, and leaving your opponents clueless about what left them in the dust. It is silent, yes, but it has no intentions of being polite. TWO good to be true? Stay tuned!"
Read slao: TVS Invests 6 Crores For 250cc Electric Bike Development
All the components used on this project are manufactured in-house including the motor, battery pack and management system. While, the bits like body panels, swing arm, transmission and the electric vehicle supply equipment are sourced from the market.
Other than the Emflux One and Two, the brand is having an eye on Model 3 which will be cruiser offering and will use an even more powerful battery. The design language of all upcoming models is kept secret and the launch is not confirmed yet. Mr Varun Mittal, head of Enflux Motors shares his views on these new products by saying that these upcoming two-wheelers will change the two-wheeler buyers views for the electric bikes in India.