Launched back at the Geneva Motor Show 2012 as a concept vehicle, the Convertible version of the Land Rover Range Rover Evoque has been on the priority list of spy photographers and now the British manufacturer has officially confirmed this Range Rover Evoque Convertible at the same event. The car teased in video shot in the under tunnels of the London and displayed the off-road capabilities of it. However, there hasn't been much details of the car released and the video model was also camouflaged so that nothing comes out until the car goes for the production in 2016. Still, we got many things to tell you about this car.
Under the bonnet, the car possible will get 2.0 Litre 4-Cylinder Turbocharged Petrol engine with 9-speed automatic transmission system for the U.S.A. market and it'll be the one of the few convertible SUVs there alongside the home-grown manufacturer Jeep's Wrangler. Physically, the car is supposed to be 165 pounds heavy than the regular version of Evoque and price is also supposed to be hiked around 12-15 percent.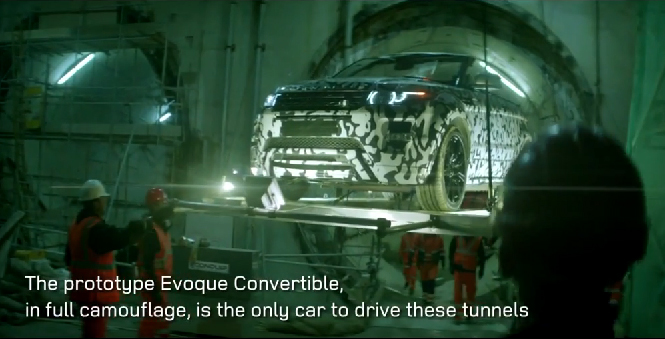 Well, the car does look awesome to me while I watch the video, still it would be too early to comment or anticipating anything about the performance or response of people about this car. So, I suggest we wait and watch until the next official news comes out in the market.