A base variant of made-in-India Renault Duster (without airbags) has been awarded zero rating for adult occupant safety in the recent Global NCAP (New Car Assessment Programme) crash tests under the #SafeerCarsForIndia initiative. However, for the rear seat child occupant safety, it managed to receive two star out of five star rating. The report states that absence of airbag in the base variant would result in a high risk of fatal injuries for the driver.
This is the second round crash test for the cars made in India for 2017. In the first round, the Chevrolet Enjoy and Ford Aspire are being crash tested. The Global NCAP has been carrying out various crash tests on the popular Indian cars since 2014. India will imply new crash test standard from October this year which is based on the UN testing protocol of 56 kmph frontal crash and side-impact crash standards. Although, Global NCAP crash test is carried out at a speed of 64 kmph. India's current crash test norms only require frontal test at 48 kmph.
Coming back on the Duster, following the zero rated crash test, Renault asked Global NCAP team to conduct a crash test on a mid-class Duster version that includes a single driver side airbag. And the results are pretty good, and rating has been increased to 3 star for adult occupant safety, while child safety rating remained the same as previous, 2 star. You will be surprised by knowing that the same single airbag fitted variant made in Colombia for Latin America market was previously awarded 4-star rating in the Latin America tests concluded in 2015.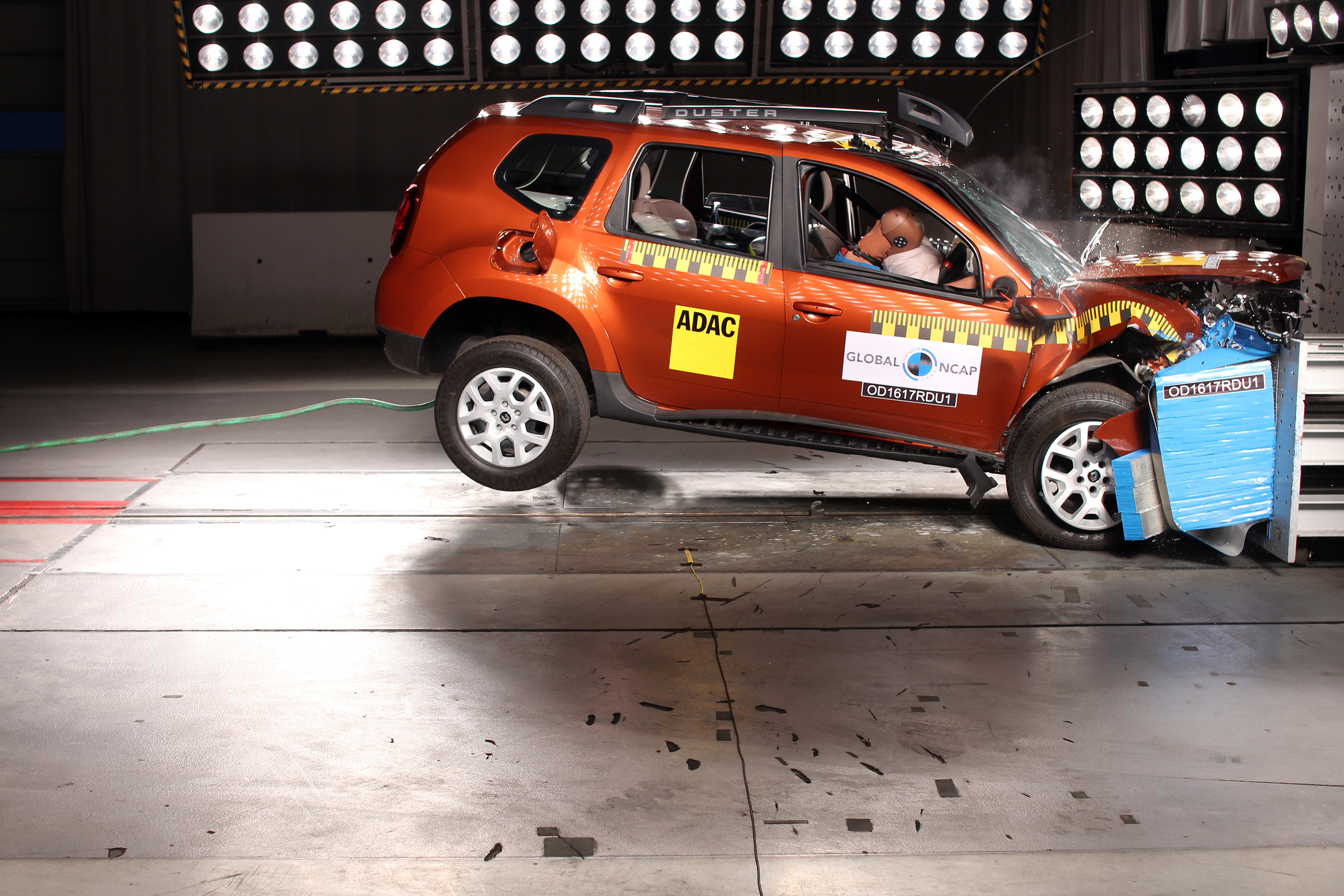 The difference in crash test rating for the same variant manufactured for different regions put the Global NCAP team into doubt and a quick investigation has been carried out and the result revealed that Latin America model features a bigger size airbag than that of the India-spec model.
Test result describes that on the Indian version Duster, the driver dummy's head was not striking at the center of the airbag when it inflates which as it should be, but not, due to its smaller size. While the bigger sized airbag on the Latin America version covered the head and chest area completely and prevent the fatal injuries possibility.


David Ward, Secretary General of Global NCAP said:
"It is troubling that during the UN Road Safety Week we yet again encounter a zero star car in our crash testing in India. Renault produce the Duster in a number of markets and yet it seems content to provide a version for India which falls so far short on safety.
"The version of the Duster with an airbag scores three stars, but this too fell short as it was fitted with a smaller airbag. A model with a correctly sized airbag should be provided as standard," he added.
In a response to a query, Renault India issued a statement stating, "We are already future-ready in terms of technology, design and engineering for enhanced safety for all our vehicles. Indian Government has announced that the crash test regulation for the existing cars will come into effect in 2019 and for the new cars in 2017. Renault fully supports this."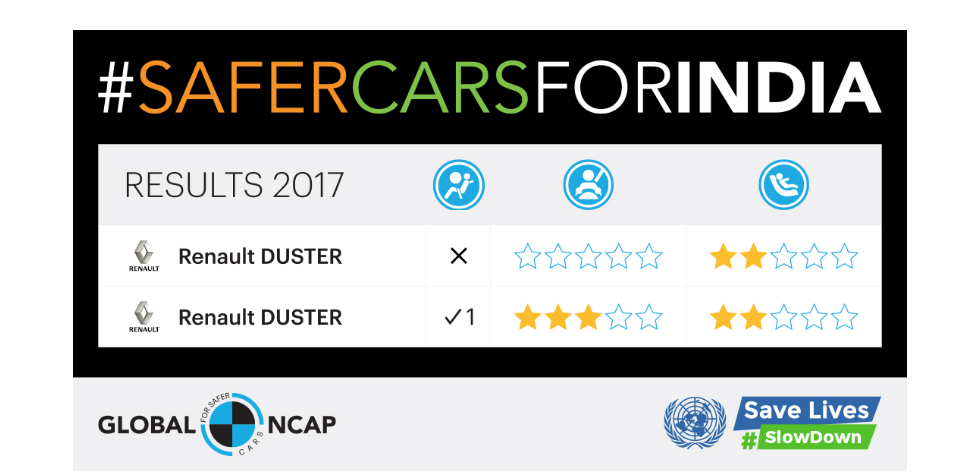 Rohit Baluja, President of the Institute of Road Traffic Education said, "The maximum speed limit for passenger cars in India has been notified as high as 100kph. Highways in India are witnessing very high speeds of Light Motor Vehicles (LMV) and therefore it is of utmost importance that our new generation cars are built to the highest safety standards. The Renault Duster has been created as a sporty vehicle and drivers tend to drive these at high speeds. Renault must make the Duster with an airbag as standard, as they do in other parts of the world. Indian consumers should no longer be subject to second class status on occupant protection from global manufacturers who achieve high levels of safety in other markets.

"The Prime Minister's call for 'Made in India' should be well respected by car manufacturers to demonstrate the that Indian cars are as safe as the best produced in the developed world," he added
Get latest and updated information about automobiles on our Google Plus Community SAG Mart.