Bucherer comes in collaboration with the German motorcycle specialists Bundnerbike in order to manufacture the unique Harley-Davidson Blue Edition.The Blue Edition initiated as a Softail Slim S before started to make at bigger platform both cosmetically and mechanically.
A bespoke hardtail frame made its way and at the front, the telescopic fork discarded for a girder fork make up. Further, a pair of 15-spoke wheels were cast out in order to balance a good measure. Although, the engine retains its place with the addition of a custom exhaust and air-box system. In mechanical setup, Bucherer makes its presence. The headlight cover, foot controls, reservoir cap, and levers are all plated with gold, whereas the seat is sheeted in cowhide along with hand-stitching of Switzerland. The engine has a clear camshaft cover which permits you to see some of the engine setups light up by heat-resistant LED lights so that at the time of riding you won't feel to do so.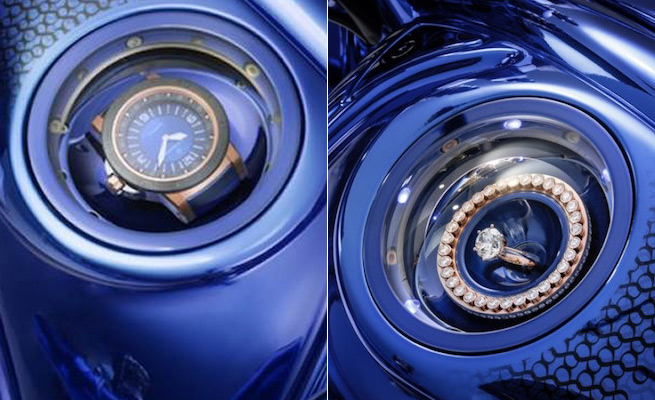 If it doesn't feel light up for you, Bucherer has something more to bling, a 5.40-carat diamond ring named the Dizzler and a custom-made watch which takes inspiration from its Patravi TravelTec II model. The diamonds are placed in cut-outs on the sides of the fuel tank, covered by toughened glass domes, and as well lit by LEDs. If you feel that this is not enough, there is handlebar-ends and fork-tops taking the smaller size of the Dizzler diamond ring.
The name of the bike matches with the unique blue paint job which surrounds most of the parts of the motorcycle that are not plated with gold. To get the unique surface-finish, it needs a detailed process, where the first step is to make the parts silver-plated and then six coats of layers made to finally get the final deep blue color finish.
Read also: India's Top 5 Most Expensive Superbikes, So Far!
In addition to the paint job, the Blue Edition as well gets a lengthy, flowing fuel tank which reduces at the rear side and clearly mixes with seat unit. The downward bent handlebars are placed low and they are wide as well. The pegs are set forward in style of traditional chopper fashion.
The Blue Edition was revealed in Zurich during a launch event and wraps a price tag of 1.88-million USD.