Royal Enfield has had associated with Indian army from 63 years. In 1955, when the UK-based manufacturer, supplied its first bunch of motorcycle for Indian army 63 and eventually settled in Madras (now Chennai). Currently, the Royal Enfield is headquartered there and serving the demand across the world.
Besides, that drastic evolvement of Indian two-wheeler industry, the RE had always been favourite of the Indian army. And its due to bike's ability to roam in all terrain including the Himalaya range and our country border area. Other than Indian army, the units which safeguard our country not only from external affairs but also from internal crises, like the paramilitary force, air force, BSF, CRPF, and the police officers also use Royal Enfield motorcycles.
The Royal Enfield's product lineup for India consists of a host of motorcycles which are not only associated with the Indian army but also developed from being inspired by the military stories. You will find the name of products such as the Pegasus edition, the Classic 500 Desert Storm in 2011, the limited edition Classic 500 introduced in 2015 along with the Squadron Blue shade and the Stealth Black edition included in the lineup back in 2015.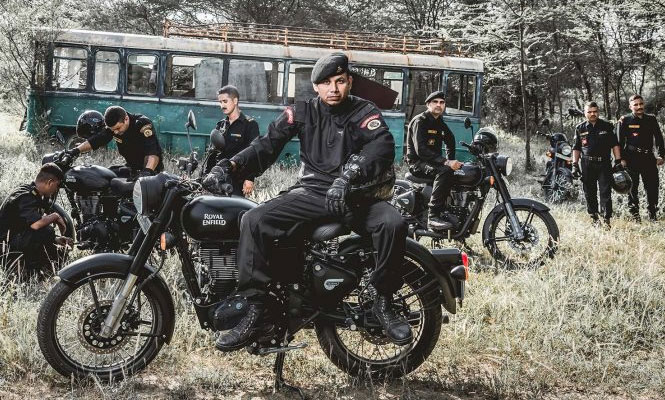 Royal Enfield is certain that it will proudly continue this association with the Indian army and there are a few other models which are lined to introduce soon in coming months.
Now the question arises which are those traits which made the Royal Enfield a favourite choice of Indian army and any other armed forces in India.
Sturdy Muscular Build: The Royal Enfield built around a durable Single Downtube frame which holds the engine as a stressed member. The motorcycle mounts on prominent 35mm telescopic front forks and Twin shock absorbers with 5-step adjustable preload at the rear. These suspension units offer the travel distance of 130mm and 80mm respectively.
Customizable: The underpinned single downtube chassis of the Royal Enfield is a unit that supports drastic customization. That's why Indian army prefers RE bike in order to alter them as per their applications.
Comfortable Ride: The Royal Enfield offers an upright riding position that supports the comfortable long journey. Other than this, the motorcycle can also take on any terrain easily as it packs durable components and does not affect rider's back owing to its comfortable straight back riding position.

All Terrain Bike: As mentioned above, the Royal Enfield comes packed with reliable equipment along with high torque-low rpm combination which makes the bike easily handled on toughest terrains and across varied climatic conditions.
Powerful Engine: Royal Enfield gets power from a Single Cylinder, 4-Stroke engine with Spark Ignition. The 499 cc displacement engine generates the peak power of 27.57 PS at 5250 rpm which makes the bike not get stuck anywhere. Whereas, the high low-end torque of 41.3Nm at 4,000 rpm makes the bike easily take on the hilly or uneven terrain.