The oldest American motorcycle manufacturer, Indian Motorcycles has rolled the first teaser image of its Roadmaster Elite model online, via its social media platform. It is an improved iteration of brand's standard Roadster model with top of line attributes which makes it an alluring and desirable offering for the Roadster lovers. Moreover, going to be produced in a limited count of 300 units, globally, the bike comes featured with a host of components being used for the first time in the model.
Painted in a custom bike-inspired dual tone blue and black colour scheme, the bike retains its ample chrome embellishment. As claimed by the brand, the single unit of Roadster Elite took 30 hours to get painted and finished by hand. Moreover, a 23K gold leaf emblem on the fuel tank enhances the exclusivity of the Roadster Elite.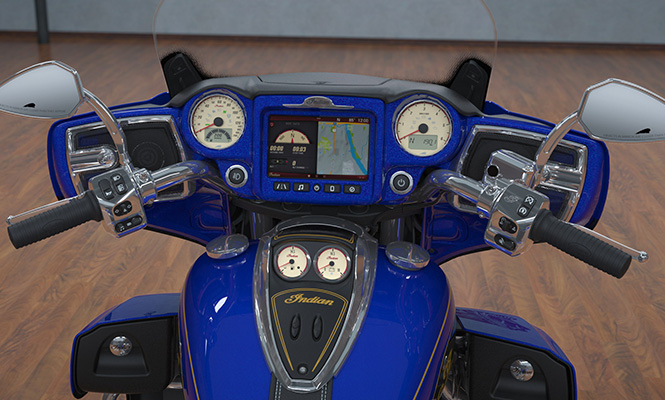 The features for the rider and its companion's comfort includes heated grips, dual-climate heated seat, passenger armrests, billet aluminium passenger and rider floorboards, a 300-watt audio system and pinnacle mirrors.
The propelling power of the Roadster Elite will come from the identical 1811cc 'Thunder-Stroke' V-twin engine unit. The mill in integration with a six-speed gearbox and belt drive dispatched the peak torque of 139Nm to the rear wheel.
At the global front, the Roadster Elite was exhibited in front of audience alongside the showcase of the Springfield Dark Horse and its other 2018 range of motorcycles. From the mentioned Indian Motorcycles products, the Roadster Elite will be the first to hit the Indian motoring market anytime soon this year.