Have you ever seen turning the cruiser motorcycle into an off-roader? Well, the French custom-makers have come-up with something called Indian Scout SC001. Since its re-introduction, we all have known about the glorifying beauty of the Indian Scout. The cruiser is meant for providing you a more than comfortable ride. Besides talking about its beauty, let me get you through one of its avatars as I mentioned earlier; the Indian Scout SC001. The French motorcycle dealer named as Premium Motorcycles has gone through the next level and showcased the wild part of their thoughts through the customized off-roader.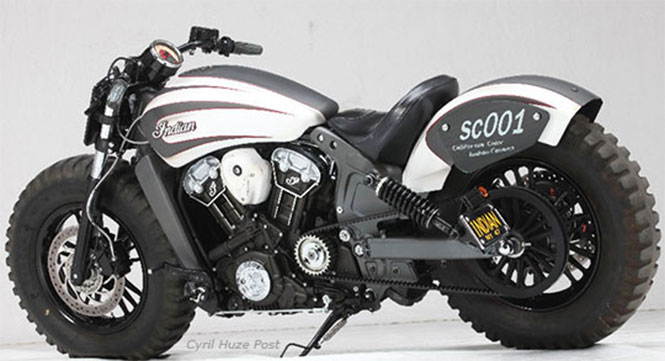 While shaping it into an off-roader, the most spectacular thought came to their mind is the installation of the military Jeep Willy tyres. Yeah!! Isn't it sounds stimulating. This is that piece of contradictory beauty which I've never ever come across. The small-sized rear fender and no fender in the front make this a perfect off-roader entirely. The solo riding experience could be doubled at any moment you want to, by adding a pillion seat. By having a look at the motorcycle, it seems that the real big-sized and knobby tyres are the only required thing to transform it into an off-roader.
See Also:- Dirty Bird Indian Scout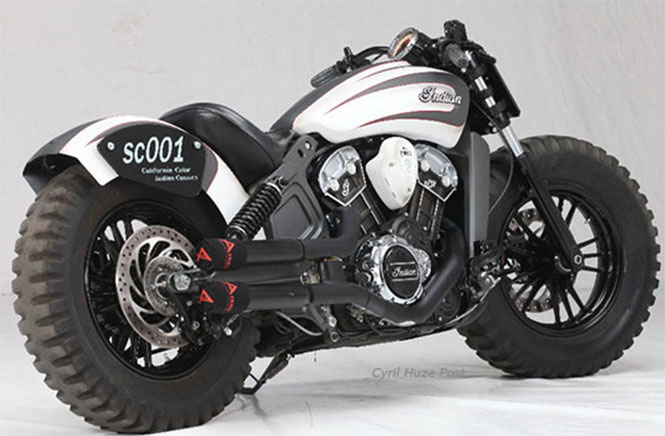 The additional accessories alluring the motorcycle are the fat and chrome-plated dual exhaust tails, which is swapped by an Arlen Ness system having a thin diameter and shortened length. A tiny and powerful Heretic LED light has taken the place of the company built chrome plated round-shaped headlamp, leaving behind the blinkers. The bodywork and the fuel tank paint job are done by Eric Salin from California colors. Some of the components have gone through a limited gloss blacked out treatment, which is perfectly contrasting with the satin white fuel tank paint.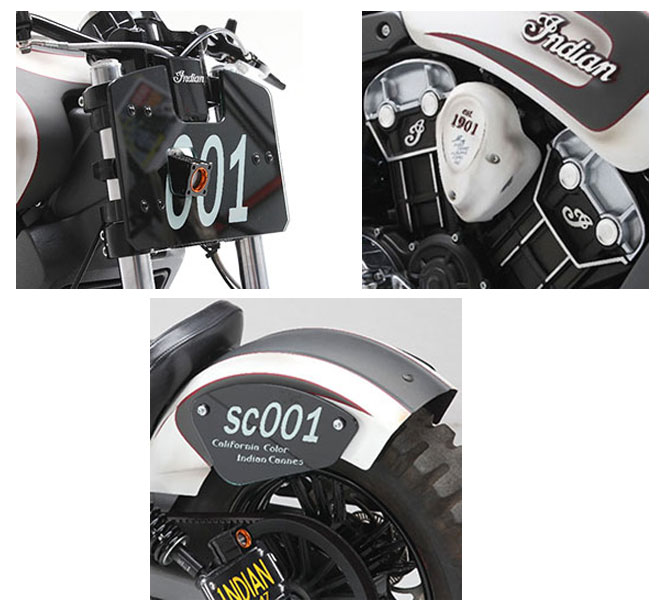 Following the off-roader theme, the Indian Scout SC001 has received a set of Flanders handle bars, which also gear-up the riding position. The mechanics of the Indian Scout remains unaltered. The most enticing part of the off-roader is the alluring glass plate placed over both sides of the rear fender, having a badge of "SC001".