Recently, we have heard about the Jawa Signature edition launched in India for the auction purpose and the collected amount has to be given for the education of the children of martyrs. Now from the sourced news, we have came to know that the Chassis No 1 has begged a whopping amount of INR 45 lakh.
The amount was fully inlcusive of all the regiatration and other duties and it is the final amount that the bidder has to pay. Even though it sounds exciting, paying INR 45 lakh for a bike having value far less than this enlightnes our patriotism. Anyways thanks for all the bidders to contribute for such a noble purpose.
Jawa Motorcycles had auctioned the specially crafted Jawa Motorcycles named as Jawa Signature Edition.
Jawa fundraiser event was scheduled on March 29, 2019, at 7:30 pm in Mumbai wherein the bidders got the chance to pick a chassis number from 1 to 100. The Signature Edition Jawa motorcycles will be decorated with an exclusive tri-colour livery on the tank along with a custom monogram on the fuel tank cap with owner's name engraved on it. Well, as of now, no information regarding which models will be provided as the Signature Edition is revealed by the automaker. Probably, both the Jawa and Jawa 42 models could be considered crafted as these special edition model as the flagship Parek launch has been postponed to end of 2019.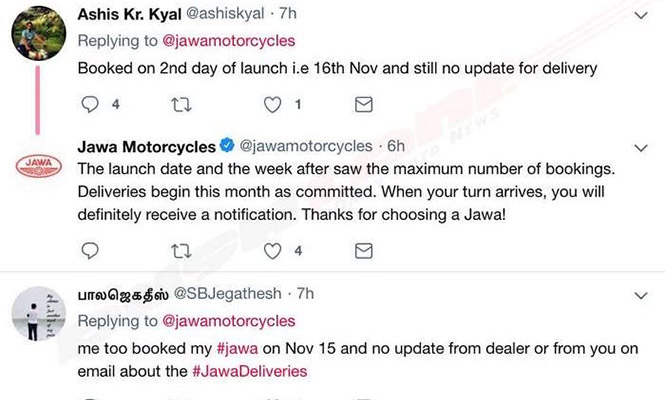 Read More: Jawa Motorcycles: Deliveries to Start
Not even this, Signature Jawa motorcycle owners will be honoured with special treatment like the access to all exclusive events, promotions from the company along with offers on Jawa merchandise. Among others, owners will be offered with a commemorative coffee table book about the brand and a 'Service Package' valid for a duration of 42 months since delivery. The package will facilitate with possible complimentary periodic services along with consumable being used for standard maintenance schedule. While announcing the Signature Edition, Jawa clearly mentioned, 'Make sure to not crash the Signature edition Jawa, as accidental repairs will be a hit on your heart and wallet!.'
Read Also: Jawa Motorcycles Hits Mumbai with New Dealerships
FYI, there wasn't a mandatory minimum bid, but it only helped in determining the final chassis number to put up based on popularity from online bidders, as the motorcycles are available in a limited count.