Kalashnikov, a Russian arms manufacturer globally noted for the AK-47 assault rifle, is readying to enter electric vehicles (Bikes and Cars) markets. Lately, an electric off-roader christened as Kalashnikov SM-1 premiered at a Russian army show. This latest electric bike offering is only meant for military individuals and is packed with prominent adventure touring components such as beefy, long travel suspension and nutty tyres for off-roading. Though, the exposed trellis frame along with single piece canted seat uncovers bikes' dual sports capabilities, with distinctive street feel.
As of now, it's not clear that the Kalashnikov SM-1 will be offered for the civilians or not! Also, there is no confirmed information regarding the SM-1 engine specifications. From the sources, it is known that the motorcycle is loaded with a brushless DC motor with water cooling. The unit gets power from a lithium-ion rechargeable battery that can return the travel distance of up to 150km. The claimed top speed for this electric off-roader is 90kmph. The suspension setup comprises a beefy, USD forks upfront in association with a pendulum-type central spring-hydraulic shock absorber at the rear.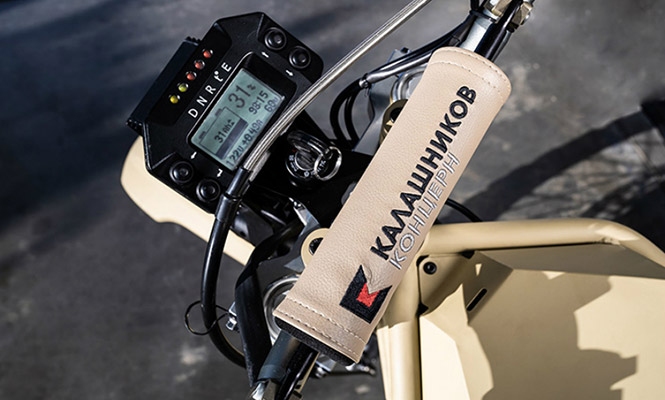 The electric motorcycles are being used by the military and special forces since long. As they are capable of traversing difficult terrain without the noise of an internal combustion engine.
Read also: Harley Davidson Livewire to Launch in August 2019
Other than this, there is also an electric all-terrain motorcycle under development. Named as the SilentHawk, the motorcycle is being developed by the Pentagon's Defense Advanced Research Projects Agency (DARPA) in the US. As compared to above mentioned Kalashnikov SM-1, the SilentHawk uses a different propelling technic- a hybrid engine against the former's full-electric powertrain.
The Kalashnikov SM-1 is meant for military, however, this Russian arms manufacturer is developing other all-electric prototypes for the paramilitary, police and civilian.