A next-generation KTM 1290 Super Adventure test mule has been snapped performing test runs. The set of online surfaced spy images revealing the motorcycle would feature added attributes over the existing model.
Well, the test mule was heavily camouflaged albeit the evident bodywork revealing an extended front fairing covering the majority of cycle parts such as the engine, frame, a section of the exhaust system that is a new and slightly wider than the unit being offered in the ongoing model. The front placed windscreen is now a large redesigned component with better wind deflection. Its height can be adjusted via provided two large vertical slots underneath the windscreen. As of now, the prototype bike was featured with a single small headlamp which was used on the global front to hide the final appearance. While a middle line on the fairing above small headlamp indicates a large slit to install as similar to the current headlamp arrangement.
Read Also: KTM Duke 250 ABS Launch Scheduled in January Next Year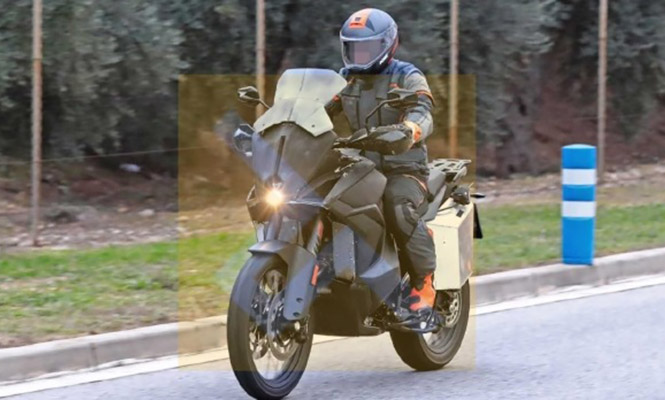 The test bike was featuring the twin fuel tanks, expected to be slightly lower than the current model. It will help in lowering body weight for improved handling. There was an extra panel bolted on bike's rear left side to cover any component underneath. On the other side, there is a large exhaust canister as similar to the current model. Further, the test bike seemed with a larger TFT Screen placed higher behind the windscreen would make easy reading of information on the go. The general ergonomics and seating arrangements also seem revised for better comfort.
As we all aware that the global automotive industry is going to see the implementation of new Euro 5 emission and safety standards in 2020. It forces a host of alterations and tweaking at engine front to comply with the upcoming emission norms. In the coming future, the engines will use a leaner air-fuel mixture with 30 percent lesser emissions. Also, the operating temperature for combustion will go up which need a proper heat dissipation that is evident from featured larger radiators as identical to the current model. Other than this, the KTM Bikes could adjust the state of tune to meet the emission norms without compromising on power.
The market-ready guise of new KTM 1290 Super Adventure is expected to hit the global market sometimes by 2020. Whereas, its introduction to the existing lineup is not sure as of now.