Audi has been working in the laboratory, manufacturing the new generation Q3 from some time back. Currently, the Audi SUV available in the market is the oldest from the Audi and therefore, it is working on the new Q3 facelift. It has been caught while testing at multiple events. This is the first time when the high-performance variant, the SQ3, has been spotted on the wet tracks of Nurburgring.
The spotted test mule is caught in a quad exhaust set-up along with a sportier bumper at the back side. At the front, you will see a larger air intake along with a contrast silver trim near it. The vehicle was operable on a larger wheel which was capable of giving an apparent view of red brake calipers at the back. The engine inside is likely to be a 2.0-litre turbocharged engine generating 300-350bhp of power. It will run on the Quattro all-wheel-drive in terms of standard layout.
Inside the cabin, it is expected to take Audi's Virtual Cockpit as available on the S5. It will get an enhanced MMI infotainment system also. The dashboard will be produced horizontally instead of vertically, which enlarges the visual width of the inside cabin. With the accommodation of the new platform, the boot space will also increase in size.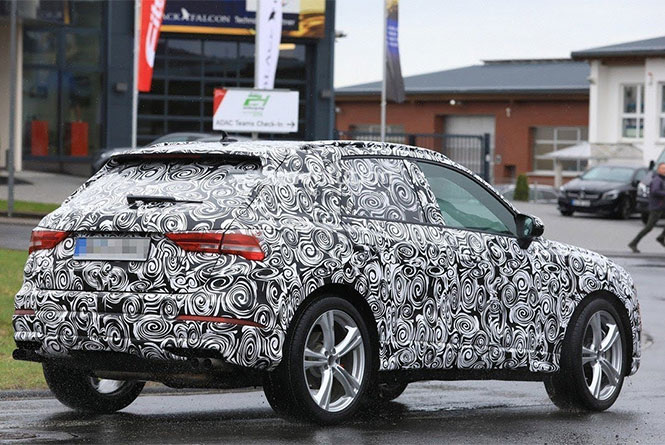 Audi proposes to bring a performance variant in the entire Q line-up. With the rising demands for the SUVs recently and tough competition from formulated competitors like the Seat Ateca Cupra, Mercedes-Benz GLA45 AMG, and upcoming X3 M, the company doesn't want to be brought behind. As it is part of the VW Group's umbrella, the SQ3 can share parts of the acclaimed Mk5 Golf. The next-gen Q3 will be moved to the versatile MQB platform which provides umpteen powertrain choices for the SQ3. The upcoming SUV will work to assist the crossover loose some weight.
The new-gen Q3 will be available in the year later. Therefore, we can hope that the SQ3 will be in the market a few months later. The RSQ3 is the full-blown crossover which will generate a 400bhp of power similar to the RS3 and will reach a year later in the market. The Audi SQ3 is also expected to come in India after the launch of the new-gen Q3.