Rather than revising its older design, looks like, Audi is actively working to give an exhaustive refresh to the next-generation edition of A1, a smaller but much-in demand hatchback. Slated to be introduced in early 2018, it will reportedly come up with a host of fresh styling, picturesque interior and a different drivertrain options. Some fresh spy shots of the same touched online showing a more conventional hatch design instead of current bubble-like shape.
Image Courtesy: PAULTAN.ORG
The prototype seen here is a five-door Sportback unit, however, it's not clear yet whether Audi will bring out both the three and new five-doors variant or comes with five-door guise only. The biggest changes will come in the form of the platform i.e Volkswagen Group's MQB platform, offering greater flexibility and weight savings. Besides, such architecture will also help the company to provide this next generation model with wider and larger dimensions over the ongoing version.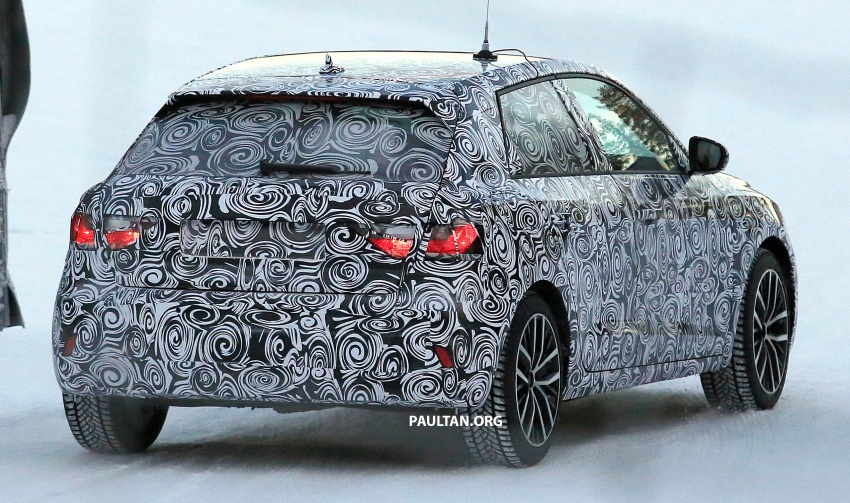 A new platform will also bring benefits under the hood. According to reports, the 1.4-litre turbocharged engine will be phased out from the lineup and would be replaced by a 1.5-litre turbocharged motor developing about 150 PS, similar to the one found under the skin of seventh generation VW Golf. There would be a new 1.0-litre three cylinder base engine as well. Some emerging reports also hinting for a S1 performance unit with the inclusion of a 2.0-litre turbocharged derivative with around 250 hp of power integrated to an all-wheel drive setup. Moreover, slim chances of seeing a more potent RS unit with around 300 hp of power.