Nowadays, Pune Police has become harsh on offenders breaching traffic regulations. Recently, they were found recovering heavy fines from the motorists and two-wheeler riders. Those were seen riding on the wrong side, with three occupants and stops on the zebra crossing at traffic signals. For which, the Pune police has already installed cameras at strategic spots across the city in order to catch those offenders.
If any motorist captured violating traffic regulations on these cameras, their vehicle will be confiscated and released only by paying levied hefty fines. Altogether, the courts have been directed to take strict action against those who abuse and physically attack traffic policemen.
A list of offences, levied fines against has been released by the Pune Police Department. Also, the list will consist the section under which the offence will be registered. All in all, it is a comprehensive list of 42 traffic offences with fines defined in the range of Rs 200-2,000.
Read also: 63 Traffic Safety Signs and Their Meanings in India
This action of releasing offences list with levied fines showcase the transparency of Pune Traffic Police. Also, it has been done due to some citizens have made complaints that they are being charged more than the actual fine. That is the only reason behind revealing of the official list of fines for traffic and parking violations. Also, an initiative of notifying the Traffic Police department via social media or by calling 100 or by visiting a Police Station, is also been started if any cop is charging higher fine as compared to the dedicated amount for the offence.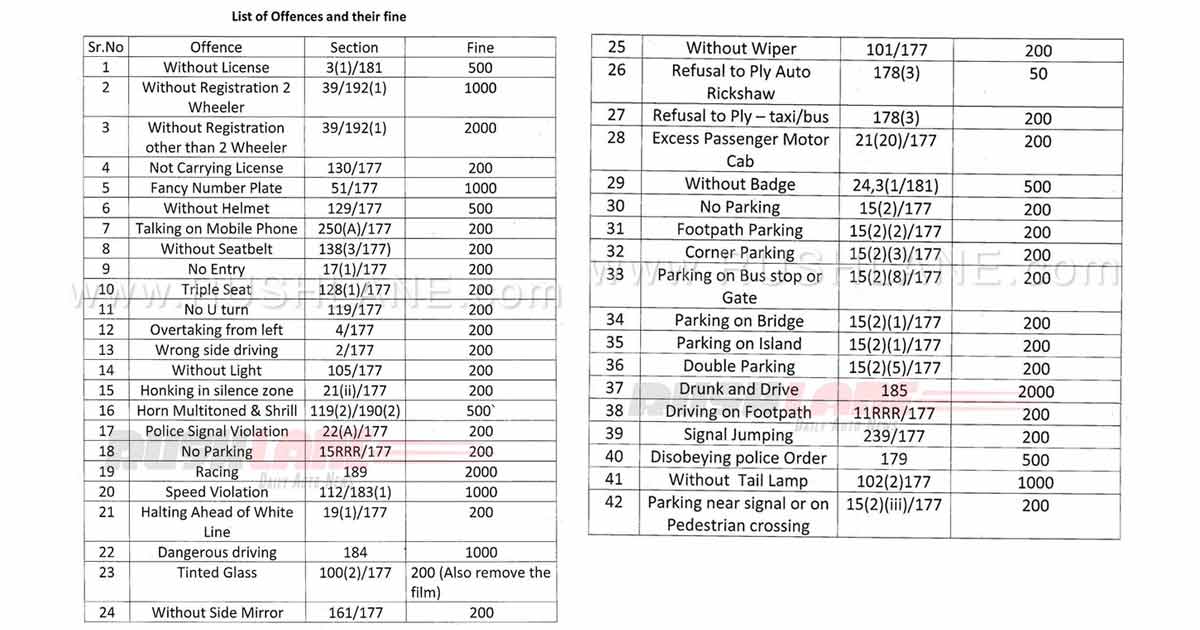 As per the listing, drivers caught without licenses will be fined INR 500, while for those caught without registration, the traffic police will levy INR 1,000. For the offences like the riders/ drivers without driving licenses, riding without helmets/seat belts, fancy number plates, talking on mobile phones and honking in silence zones will also be charged heavily.
Moreover, the Pune Police has also made arrangement for those offenders who parked their vehicles in no parking zone. The owners will be clamped along with their vehicle and will be fined heavily for releasing the vehicle. The offences like speed violations, halting on zebra crossings and racing on the roads are also on the list with will entail heavy fines. '
Similar: Road Marking Lines: Their Meaning and Why Are They Important
For the cars with tinted windows, the implied fine is INR 200 along with the removal of films at the same time. If the auto rickshaw driver refuses to ply to a particular destination, they will be fined INR 50 as it is against the law and under section 178 (3) of IPC. Also, there is a provision of INR 200 for parking vehicle at footpath, near a bus stop or gate. While the charged fine for drunk and drive is at the top of the list with a fine of Rs 2,000.