Royal Enfield will try its twin cylinder Continental GT 650 on the popular Bonneville Salt Flats to break the land speed records as per the official promotional campaigns currently running under the RE subunit. The 2018 edition of the Bonneville Salt Flats International Speed Week is around the corner and Royal Enfield is not behind to launch its own in-house developed machine to get to the race track.
The Continental GT 650 will be the machine in question having most of the accessories from the LockStock including the nitrous oxide injection and extended wheelbase. While on the front there is top of the line Ohlins upside-down forks with clip-on handlebars mounted very low. While the power is said to cross the 100bhp mark necessary to beat the record.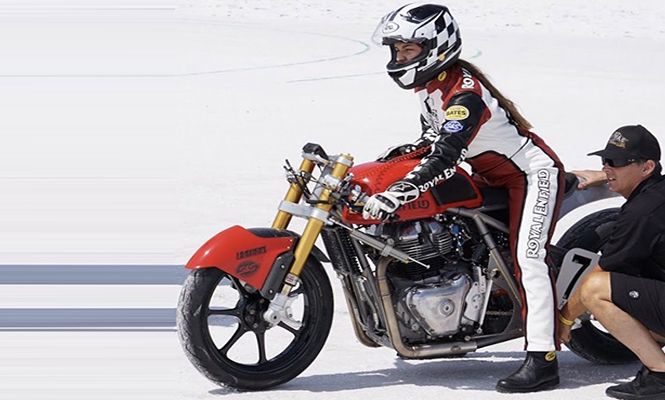 Cayla Rivas, an 18-year old will be the person behind the wheels having numerous awards and championships on her name on the salt flats. This time the girl has done over 20 laps on the salt flats with the modified RE. After such multiple lapse, finally the machine got the average top speed mark of 240kmph. This is the maximum the bike could get but still it performed very well.