Your dream bike; You would love to go for a ride on your bike, going on highways, long drives, etc. So, How would you feel if something wrong will happen to your elegant bike?? Doesn't sound good. Well, if it is your dream bike and the most favorite one, then you should take care of your bike just like a little baby. If you want a smooth and cozy ride on your queen and would like to become a king of the road, then you should go through these steps once. Take proper care of it and then ride it, only then you will feel that it is the best investment you've ever made.
So, here we are providing some important tips on how you can maintain your sports bike in a perfect manner to enjoy a smooth ride:
1. Engine: The engine is the most sensitive and important segment of your bike. It shares the one of the most crucial place in the bike's functioning. Pay special attention to cleaning your engine and Valves. For a creamy and a melodious ride on your bike, you should take it to the service person after every 1500Km.
Make sure to clean carburetor on time and along with that do not fail to think of Spark Plug. Engine oil also plays a significant role in this whole gambling of power plant. Check the level of engine oil uniformly and the oil leakage also should be taken care of. If you are riding your bike with a dirty oil, then it will surely increase the fuel consumption. Also keep the air filters clean as you are very well known about the Indian atmosphere. Take it to the service station on time and reduce your petrol bills.
2. Battery: Checking the Battery is like doing a safety check of your bike. First, ensure yourself, that your bike has a fully charged battery. As, Battery needs a check-up every now and then.
The battery should be clean and leakage free and to check this you can put distilled water on it whenever required. If the battery is fully charged, you can have a hassle free ride on your bike.
3. Brakes and Clutch: Now coming to brakes, this is another sensitive part of your bike. After all it protects you and provides you security. It should be stifled according to the rider's personal style.
The brakes should not be too-urgent or too-late, always keep it properly spaced. The clutch of your bike should be adjusted in a proper manner. A tightened clutch will lead to an unnoticeable slip of the bike.
4. Transmission box and Chain: The Transmission is another vital part of the bike which should be taken care of. Do not change the gear from fifth to first forthwith, sometimes it causes damage to the piston rings. Another significant part is Chain, which requires lubrication and cleaning steadily.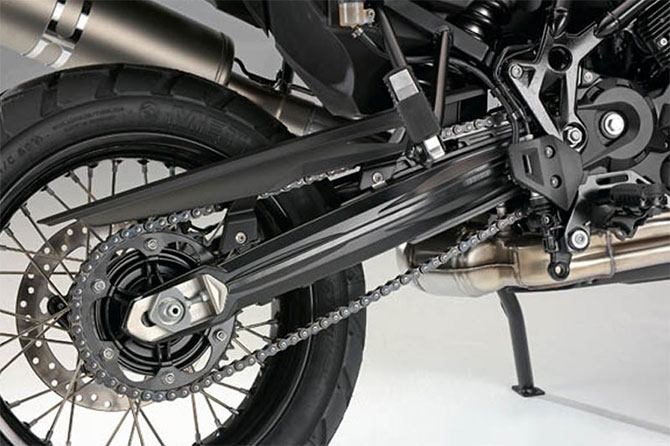 Always remember not to use water while cleaning the chain, because it might get rusty. You can use paraffin, a soft hair brush and cloth piece of cotton. If the chain of the bike is loose, the power, delivering to the rear wheel won't be par excellence. By oiling the chain in a regular manner will surely keep it working smoothly. Also, a well-maintained chain will surely provide good service for your bike and will lead to 15,000 to 20,000 plus miles.
5. Tyres: Before going for a long drive, you should check the tyres once. The inspection is pretty much required for the tyres to check whether the spokes are all ok or not, to check whether they have proper air-filled or not, or also to check that there are no notches or cracks in the tyres.
Being the most sensitive part of your bike, tyres do require loads of love and care to provide you a mild and cozy ride. In sports bike, the tyres are comparatively heavier than the normal bikes. Well, about wheels, its like the slighter the better. It also depends that how much the engine's capability owes to the tyres of the bike, as it helps to make the stable or to ride it in a straight line.