The moment, when the Ducati Scrambler has made its appearance in the international two-wheeler market, it has become the first and foremost choice of all the custom-makers. Although, the Italian manufacturer has already turned it out into a gorgeous shape, even after that several custom-makers from all around the globe are coming up with their very own customization options. Well, the list is huge, but one of the best is named as Gannet Design. The Gannet Design is a Switzerland based custom expertise team and this is not the first time when they have come-up with the array of customized Ducati Scrambler.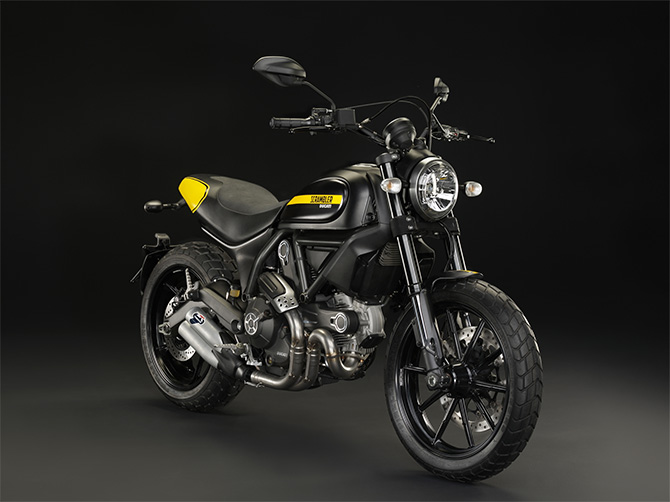 The company-build Ducati Scrambler is available in four variants; Classic, Icon, Full Throttle and Urban Enduro. And, talking about the custom Ducati Scrambler, the counting just doesn't come to an end. This time, the Gannet Design has come-up with three newly molded Ducati Scramblers, christened as Tracker 2, Tracker 3 and Caferacer. Two of them are based on the Tracker concept while the remaining one turned out into a Caferacer.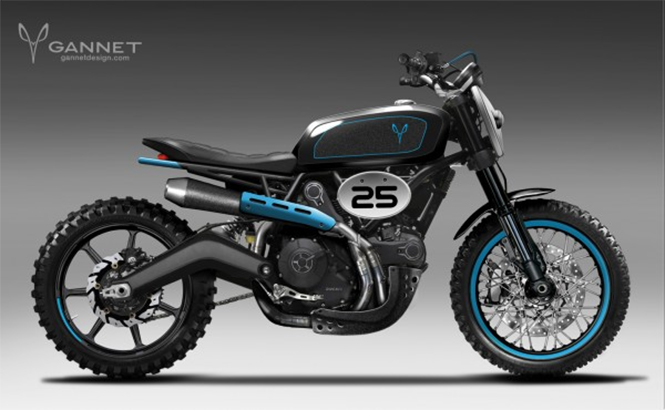 The donor bike, Ducati Scrambler Full Throttle, has acquired a dirt tracker theme and blessed with various theme related components. Designed around an exposed and extended trellis frame, the Ducati Scrambler Tracker 3 features a newly fabricated tank carrying a badge of Gannet Design, up-swept exhaust tail, flat seat and a badge of "25" below the fuel tank. The blacked-out motorcycle gets a highlighted touch of Blue color. The front section has knobby tyre with wire spoke wheels and blue-colored bezel layer; while the alloy wheel has been fitted to the rear portion with a pinch of blue bezel.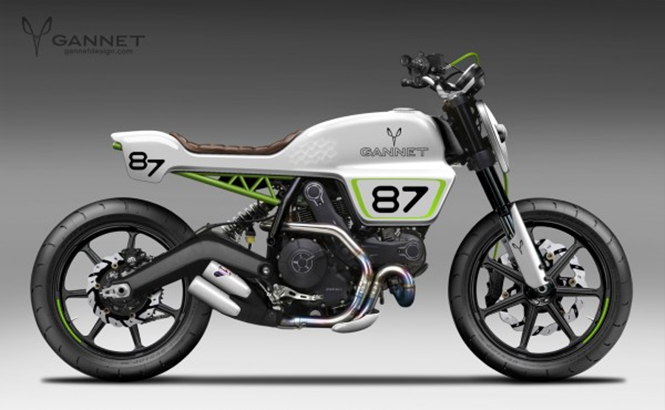 Moving towards the Ducati Scrambler Tracker 2, it has made its appearance in an eco-friendly paint scheme with a combination of White and a pinch of fluorescent Green. With flat solo seat accompanying with the fuel tank, it gets a badge of "87" and firm's logo. The exposed trellis frame has gone through a Green color treatment. The in-stock headlamp looks pretty simple, yet attractive.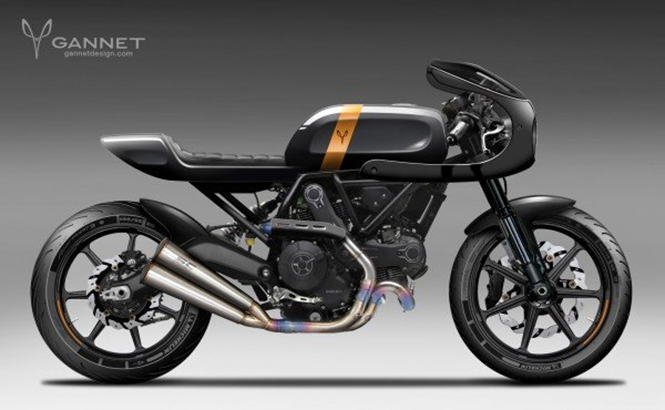 Now, here comes the Caferacer Ducati Scrambler. The most attractive part is the bikini fairing covering the headlamp and golden-colored stripe across the fuel tank. The newly fabricated fuel tank, incorporated flat seat and puffed-up rear section completely defines the theme acquired by the Caferacer Ducati Scrambler.