Why cars? Transport plays an important role in our day-to-day life. Car transport services are the best way of transportation from one place to another. It is beneficial for the individuals as well as business owners. Nowadays people are showing their interest in buying cars for their transportation. In today's world, cars have been selected according to individual status. There are wide varieties of cars available in market depending upon buyer's taste and likings. Here we are going to highlight some best cars in USA, UK and India in terms of popularity, reliability and low price.
Here below are some best selling cars in USA
1. Ford F-150 - It is the largest selling car of USA in 2013. In June alone, 68,009 units were sold which is much higher and earlier stats. It costs $23,955 that is best price for this multipurpose car. Everyone should go for its test drive.
2. Chevy Silverado - It is the runner up in USA market after Ford R-150. 43,259 units were sold in June with amazing reviews and ranking. It costs $ 31,715 to US buyers which is little higher but worthy for the money.
3. Toyota Camry - It is the third bestselling car in USA. This car has also made a good reputation in other countries like India. 25,870 units were sold in June only. It costs $22,235 to US buyers which are worth for this sedan.
4. Chevy Cruze - This beautiful car is the 4th best loving car to US population. It also made a record of high sales in month of June. Selling of 32,871 units was recorded. Americans will have to pay $17,170 for the Cruze.
5. Honda Accord - After Chevy Cruze, Honda Accord is making higher selling record in the market with the selling of 31,677 units in month of June. It suits to the pocket with handsome price of $ 21,680.
Here below are some best selling cars in UK that occupies almost half of the market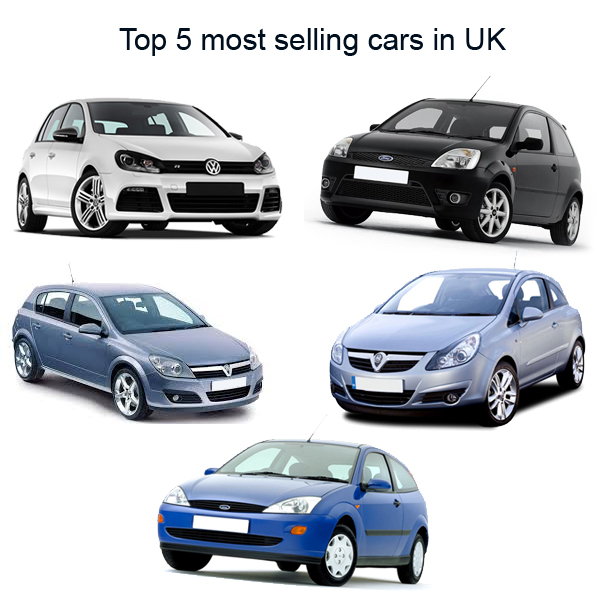 1. Ford Fiesta - Ford Fiesta is the most favorite car in UK. Fiesta leaves impression of its presence in other countries also. Statistics shows that 72,129 units were sold in 2013. It costs £9,935 for the buyers in UK.
2. Ford Focus - Focus is the second most popular car in UK market with the selling of 54,904 units in the year 2013. This hatchback will cost £13,995 to buyers. Its great performance and looks appeal the beholder.
3. Vauxhall Corsa - Corsa is the third bestselling car in the UK with budget price of £9,495 and selling of 51,133 units in the year 2013. This small hatchback may be admired by the people for its budget price and compact size.
4. Vauxhall Astra - After Corsa, Astra is the popular car with the annual selling data of 39,896 units in the year of 2013. This car is for both the drivers and the car lovers. It will cost £12,995 to the Astra lovers.
5. Volkswagen Golf - Volkswagen is the amazing brand with lots of models worldwide. Its Golf is the fifth most selling car in UK. People are fond of this car for great styling, low maintenance cost and high reliability. It will cost around £16,495 to the customers. 37,297 units have been sold in the year 2013.
We are listing here best selling cars in India
1. Maruti Suzuki Alto - The Alto 800 is the India's largest selling car in 2013 with the total sale of 22,000 units for a single month. Maruti has sold 2.63 lakhs Alto 800 in the year 2013 and got the title "biggest selling car for the year 2013". It ranges in between 2.49 – 3.64 lakhs.
2. Maruti Suzuki Swift Dzire - Swift Dzire is the second largest selling car in India with 1.98 lakhs customer in 2013. It is the most popular compact sedan in the market that touches the heart of Indian buyers since 2008. It is available in the range of 5.01 – 7.46 lakhs.
3. Maruti Suzuki Swift - After Swift Dzire, Swift is the third largest selling car in India with 1.61 happy customers in the year 2013 with average 13000 units per month. It is the best hatchback with amazing performance and eye-catchy look. It costs from 4.53 lakhs to 6.84 lakhs which is worth for this reliable car.
4. Maruti Suzuki WagonR - WagonR stands at the forth rank among the bestselling cars in Indian market. This car understands the need of the customer that makes it one of the largest selling cars in the market. The company exposes that around 12000 units has been sold each month and 1.61 lakhs in the year of 2013. It is a budget car with the price range of 3.63 – 4.51 lakhs.
5. Mahindra Bolero - The fifth biggest selling car in India is Mahindra Bolero with the overall sale of 1.10 lakhs unit in the year 2013. It is the most worthy SUV for the rural India with low maintenance cost and high performance. It is best suited budget car with tough looks and hardcore body. It costs around 5.93 – 7.78 lakhs to Indian buyers.