The Volkswagen Motorsport India is all set to host the final round of the Volkswagen Vento Cup 2016 at the India's first and only Formula One race track-the Buddh International Circuit in Greater Noida. It will be organised alongside the FIM Asia Road Racing Championship which is scheduled from 30th September to 2nd October, 2016.
After three back to back nail-biting rounds of the season at the Madras Motor Race Track (MMRT), Chennai and Kari Motor Speedway, Coimbatore, this last battle at the BIC circuit is expected to be more exciting as the top two drivers in the table are just 34 points in difference. An overview of the drivers in the last concluded fierce battle are like Ishaan Dodhiwala is on the first place with 408 points. Karminder Pal singh at 374 points holds the second place and Keith Desouza(324 point) on third place and Niranjan Todkari currently at fourth will try their level best on move themselves up in the championship.
As the race track is new for many driver, owing to this Volkswagen Motorsport is going to arrange a testing session on the 28th September 2016. This will make the drivers familiar and adaptable to the track conditions before the final session.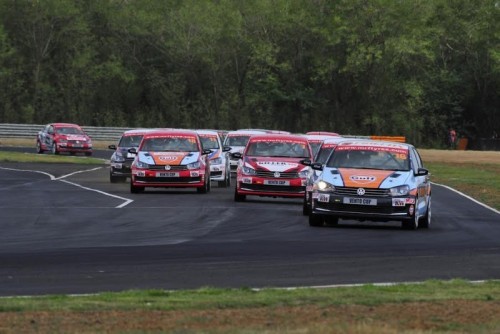 The Vento Cup car is packed with the powertrain of 1390cc, Direct injected 4-cylinder inline forced induction motor that churns out the massive power of 178bhp with a six speed automatic transmission to perform hard on the race tracks. The vehicle uses a two wheel drive system with a Limited Slip Differential.
The driver who will get the first place on the podium will be awarded by a fully sponsored season in the MRF 1600 series and the second will get a sponsored season in Volkswagen Motorsport India racing series.
Seems exicted for the final round, Sirish Vissa, Head of Volkswagen Motorsport India, said, "We at Volkswagen Motorsport India have seen the drivers evolve remarkably through this season and this is evident by the number of fresh faces finishing on the podium. They will now have to implement the learnings they have gathered in the final round of the Vento Cup 2016."
Get latest and updated information about automobiles on our Google Plus Community Speed Gears