The Irish e-bike manufacturer is preparing to showcase the latest creation of the firm. Well, the company has already selected the venue to reveal its newcomer, i.e. the Carole Nash Irish Motorbike and Scooter Show. The Irish Motorbike and Scooter Show is proceeding at the RDS in Dublin. The show is being held in between 27th Feb. 2015 to 1st March, 2015. The Irish e-bike manufacturer produces sports motorcycles and scooters. The firm has made an announcement that it will be showcasing five of its new products at the Motorcycle and Scooter Show, which comprises of sports motorcycles and scooters.
The upcoming sports motorcycle is named as "Volt 220". The electric bike is claimed to reach on a top speed of 100KMPH, which is a pretty good thing as compared to any other sports motorcycle. It can also be said as "racing sport inspired" motorcycle which lasts long up to a range of 120 KM (74 miles) after a single charge. The scooter models which will be making their appearance in the Irish Motorcycle and Scooter Show are the City 60; a fun electric scooter, Volt 70; carrying modern features, Volt 80 and Volt 90; the modern and innovative maxi scooters.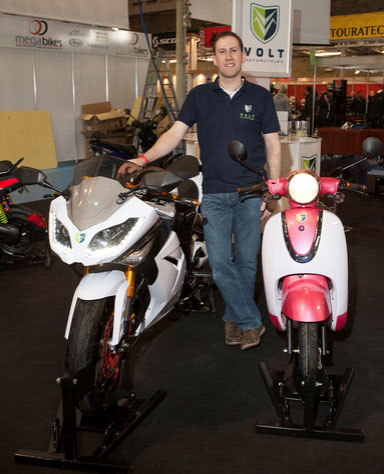 Chief Executive Officer of Volt Motorcycles, Colin Darby, says, "Most interest we have had so far is from the urban rider who wants a low running cost solution for their commute. When you consider that the average commute is around 20 kilometers a day and that an electric alternative that will cost less than €200 to run a year, it makes great financial sense. We are not looking to replace but to supplement riders' experiences and save them money in the long run. Of course, we want to do all of this while keeping the motorcyclist experience exciting and fun as well."
See Also:- Hero Electric Scooters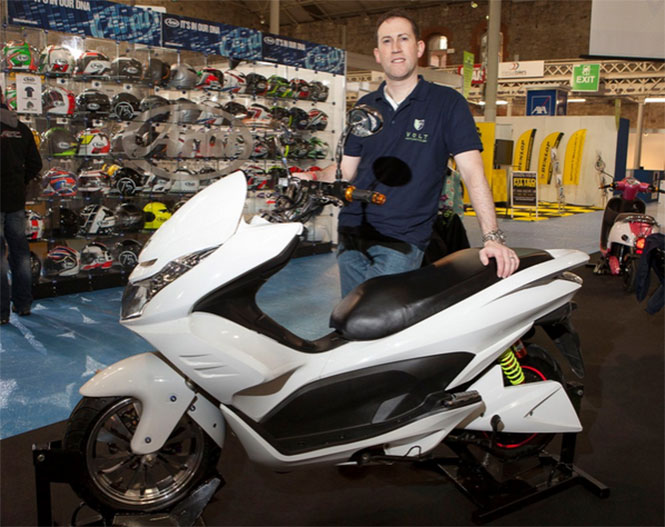 The Volt 220 is a fully-faired sports motorcycle carrying high aggressiveness in its headlamps. The black and white colored bodywork is the most eye-catching appearance of the motorcycle. By having a close look at the electric motorcycle, it clearly seems that the firm has worked a lot over the headlamp assembly of the motorcycle. It is blessed with DRL and projector lights. For more info about the upcoming Electric bike, stay tuned with SAGMart.