We are in the last phase of the Year 2018 and there are several manufacturers offering a number of discounts and benefits on the purchase of their bikes and scooters. One can avail price-cuts and several other advantages at the mentioned authorised dealerships of the products below. Here in the indexed list, there are models on which one can save from INR 1,500 to up to INR 2 lakh.
MotorBikes:
Indian: discount up to INR 2 Lakh
One could consider the above mentioned INR 2 Lakh as a discount since there is information from the Indian Motorcycles dealerships in Bengaluru, Delhi and Cochi that the Indian bikes are going to see a hike of around 2 lakh each. The increased rates will come into effect from January 2019. So, who are willing to have hands on the Indian Motorcycles, it is the correct time to buy.
Triumph:
Discount and Benefits of up to INR 1.5 Lakh
There are a number of deals from the Keerthi Triumph in Bengaluru. First up one can get the accessories of worth INR 1.5 lakh on the purchase of 2019 Street Twin. In the accessories, there will be an exhaust system and an optional seat. Whereas there is a cash benefit of INR 80,000 if one doesn't wanna go with the accessories. The 2019 Street Twin is slated to launch soon, so there are chances that other Triumph dealers could also avail these discounts and other benefits. In addition to this, one can get a free aftermarket slip-on exhaust on the purchase of the Street Triple S.
Harley Davidson:
Discount up to INR 1 lakh
One of the most selling Harley Davidson models like the Street 750 and Street Rod 750 are seeking discount benefits in the range of INR 52,000 to INR 1 lakh. The offer is applicable at Harley Davidson dealerships across the country.
BMW Motorrad:
Save up to INR 70,000
One can save up to INR 70,000, on the purchase of G310 twins-the G 310 R and the G 310 GS from the German bike maker, BMW Motorrad. One would be avail with this amount of benefit in the form of free insurance, cash discounts and heavily reduced ROI on finance.
Ducati:
Discount INR 70,000 on select model
The Ducati dealer in Bengaluru is offering a straight discount of INR 70000 on the purchase of the Ducati Multistrada 1200 Enduro model. Later in time, it will be superseded with the new Multistrada 1260 in early next year.
Cleveland CycleWerks:
Discount INR 38,000 for the first 200 customers
The Cleveland CycleWerks that's a new American automaker in India, is offering the discount of INR 38,000 on the Ace Deluxe, only for the first lucky 200 customers.
Mahindra Two Wheelers:
Different benefits offer up to INR 20,000 from several dealers
There is a range of offers from the Mahindra two-wheelers at different dealerships. On the purchase of Mojo range in Hyderabad, S&S Motors is offering a huge discount of INR 22,000. The Centuro range in Bengaluru at Synergy dealership will cost you INR 3,000 over the asking price tag. While in Delhi at Khandelwal Mahindra outlet all the Mahindra two wheelers including scooter range will make you spend around INR 11,000 less than the price stickers.
Kawasaki:
Save up to INR 10,000
The Kawasaki Vulcan S in Mumbai at Anzen Kawasaki will be priced you INR 10,000 cheaper owing to the cash Discount or you could get a radiator guard and backrest as a part of the accessories.
Suzuki:
Various deals via different Suzuki dealers, save up to INR 8,500
The deals being offered by Suzuki vary at dealerships. In Hyderabad, Gem Suzuki is availing a discount of INR 8,500 on the purchase of any Gixxer model. Meanwhile, one (corporate and government employees)would be benefited with a discount of INR 3000 on the purchase of any motorcycle at Maya Suzuki in Chennai. While at the Angam Suzuki in Mumbai, the discount is at its lower at INR 1,500 only for the corporate and government employees.
TVS:
Discount offers, save up to INR 5,000
Guys, there is an opportunity of saving the maximum of INR 5,000 on the Apache RTR 200 4V while the discount on the Apache RTR160 (Carb) is INR 3,000 at the Bridgestone Agencies in Bengaluru. The later at Abhishek Auto in Mumbai will be priced INR 2,000 cheaper than the standard pricing. Meanwhile, the Shani Motors in Hyderabad is providing a discount benefit of INR 1,000 on all TVS two-wheelers.
KTM:
Price-cut up to INR 4,000
In Delhi, Dwarka KTM is offering a price discount of up to INR 4,000 on the purchase of non-ABS 200 Dukes. Meanwhile, the similar variant at South Mumbai KTM is priced now with a discount of INR 3,000. In the coming future, we could see other KTM dealers offering similar discounts in order to clear the outstanding stocks of the non-ABS 200 Duke and 250 Duke variant before the April 2019 ABS rule came into effect. So, stay connected with your nearest dealerships as if the ABS doesn't matter a lot to you.
HMSI:
Discount up to INR 3,000
The CBR250R in Bengaluru from Haiku Honda will price INR 3,000 cheaper than the standard pricing. However, for the other models in the Honda lineup, the offered discount is slightly lower than the discount on the CBR250R. Meanwhile, any of HMSI two-wheeler will be priced INR 1,500 more accessible than earlier at the Global Honda in Chennai. At the Aadi Honda in Hyderabad, the CBR250R is on sale at the discount of INR 3,000. While at Dhingra in Delhi, the CBR 250R is being offered with a similar price cut of INR 3000, the other models, on the other hand, attract INR 1,500 discount on the introductory price.
Yamaha:
Save up to Rs 1,500
Any of the Yamaha model at Walters Yamaha in Chennai will cost INR 1,500 less expensive than the ongoing pricing.
Bajaj Auto: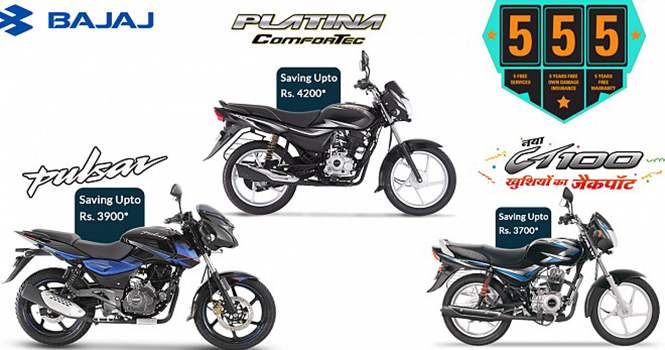 Warranty and insurance benefit
Bajaj is offering the 'Goodbye 2018' offer on the purchase of its selective models. The offer valid till December 31, 2018, offers facilities of free damage insurance cover, five free services and a free five-year warranty package.
SCOOTERS
Mahindra:
A big discount of up to Rs 11,000
Mahindra is offering a huge discount of INR 1,000 on the purchase of the Gusto range at Khandelwal Mahindra in Delhi.
Piaggio:
Save up to Rs 6,000
At Marvel Auto in Mumbai, one can be benefited with the discount of INR 6,000 on the purchase of all Vespa scooters, except for the Vespa Notte which is available at the price cut of INR 4,000. Other than this, all the Aprilia SR models are on sale at a discount of INR 4,000. Meanwhile, all Vespa and Aprilia scooters at Pillai Motors in Chennai cost now with INR 4,000 discount. While this price cut for Vespa and SR models are INR 2,500 and INR 1,500 respectively at Velocity in Bengaluru.
Hero Motocorp:
Save up to Rs 3,000
Under a loyalty programme across India, Hero is offering a discount of up to INR 3,000 on the purchase of any scooters if you already owe a Hero two-wheeler. This discount is INR 1,500 on Hero scooters at Fortpoint Hero.
HMSI:
Save up to Rs 2,000
Global Honda in Chennai is offering a discount of up to Rs 1,500 on all of its scooters. Aadi Honda in Hyderabad, meanwhile, is offering a discount of Rs 1,000. Jhaveri Honda in Mumbai is offering a discount of Rs 2,000 on its Activa range.
Suzuki:
Save up to Rs 2,000
There are different discount offers on Suzuki scooters across India. Aryan Suzuki in Bengaluru is providing a discount of Rs 1,000 on the purchase of Access 125. Meanwhile, one will be availed with INR 1,500 discount on brand's scooter range at Gem Suzuki in Hyderabad. Angam Suzuki in Mumbai and Maya Suzuki in Chennai are offering a discount of up to INR 2,000 only for corporate and government employees.
Yamaha:
Save up to Rs 1,500
A cash discount of Rs 1,500, is being offered by Walter Yamaha in Chennai on the purchase of any Yamaha scooter.
Others:
Paytm, Save up to Rs 2,500
There is a cashback offer from the Paytm also. One can avail with the discount ranging from INR 1,000-2,500 on selected scooter and motorcycles from brands like Bajaj, Suzuki, TVS, Hero, Honda, Yamaha, UM and Mahindra.
Disclaimer: There are chances that the mentioned discount figures can vary in different cities. So, once confirm at the nearest dealers for availing the exact discount benefits.